Once again, David Johnson out to prove skeptics wrong
In just three years, David Johnson has gone from budding superstar to blockbuster-trade afterthought. But it's familiar territory for the Texans' new running back, who's out to prove his latest doubters wrong.
David Johnson felt the bright Florida sunshine splash across his face as he nestled his toes into the soft sand. The waves of the Atlantic Ocean rippled off in the distance while tourists scouted the perfect places to work on their tans. Johnson had come to Key Biscayne to talk with NFL Players Association leaders about the key issues involved in the league's new collective bargaining agreement proposal. He instead received an all-too familiar lesson in how quickly life can change in the NFL.
Johnson's cell phone chimed as he strolled across the beach on that afternoon in mid-March. He heard the voice of his agent, Jonathan Perzley, who delivered the news immediately. The Arizona Cardinals had traded the running back to Houston as part of a package that included Texans All-Pro wide receiver DeAndre Hopkins. Just like that, Johnson was heading to a new home, leaving behind the only franchise he'd ever known, one that had given him a three-year, $39 million contract extension just two years earlier.
The more his agent talked, the more delighted Johnson became. He was eager for a fresh start, a new opportunity to shine with a franchise that is as intriguing as any in the league now that training camps have opened. That feeling intensified when Texans head coach Bill O'Brien called a few minutes later.
"The thing I liked was that he was really excited to have me," Johnson said during a recent interview. "As I think about it now, the thing I have to do is not listen to anything outside the organization. All I have to do is just grind."
That noise Johnson alluded to wasn't hard to miss. As thrilled as he was about beginning a new chapter in his career, he quickly discovered that the consensus was Houston got the short end of the deal. Some of that public scorn can be traced to Hopkins, a popular Texans player who is arguably the best receiver in the league. The media narrative was that Houston's haul — which included a second-round pick and a swap of fourth-round selections — wasn't nearly as impressive, especially since Johnson has struggled over the past three years and still has just over $20 million owed to him on his current contract.
The numbers alone don't paint a great picture. Johnson flirted with the 1,000/1,000 club (rushing/receiving yards) in 2016, as he generated 2,118 yards from scrimmage and scored 20 total touchdowns — both league highs — while earning first-time All-Pro status. He's accumulated just 2,191 yards and 16 touchdowns combined in the three seasons since that breakout campaign. Last year, Johnson finished with 345 rushing yards and wasn't even seeing the field by season's end.
That precipitous drop in production haunts Johnson. So does the notion that he's brittle … or a one-hit wonder … or a 28-year-old money pit whose best years might be behind him. For Johnson, the doubts hovering around him have an eerily familiar ring to them. They're basically the same kinds of questions he's been battling throughout his entire playing career. It's just that now he's hungrier than ever to show people that the real David Johnson is the guy who dominated four years ago.
"The journey I've had to take (to success) has never been the easy route," Johnson said. "From (barely being recruited in) high school to getting to the league, it's all been hard. But in having to always take that difficult road, I've also learned to accept it and embrace it. It ultimately makes you stronger."
The Texans share a similarly optimistic view of what Johnson can do with this franchise.
"We studied David when he was coming out of college and during his career in Arizona," O'Brien said. "Everybody has to go through their injuries and coaching changes. But you're also talking about a guy who was Arizona's Walter Payton Man of the Year. (Johnson received that honor in 2019 for his community service efforts.) He's tough and smart and a three-down back who can be used with (fellow Texans running back) Duke Johnson."
When asked about the contractual obligations, O'Brien added that "the contract is what it is. There is definitely money that he'll be paid, but when we look at what David adds, he's worth it."
The most appealing aspect of the trade for Johnson is that his versatility will be featured once again. That component of his game disappeared for a variety of reasons in Arizona — the Cardinals ran him more between the tackles in 2018 and then fell in love with midseason trade acquisition Kenyan Drake last year — but it should be an effective complement to the dynamic abilities of Pro Bowl quarterback Deshaun Watson.
"I'll be a runner, a receiver out of the backfield and I could even be utilized out of the slot, as well," Johnson said. "Just talking to the coaches during this offseason, I feel like that's the way they're thinking. I'll be utilized in every way possible."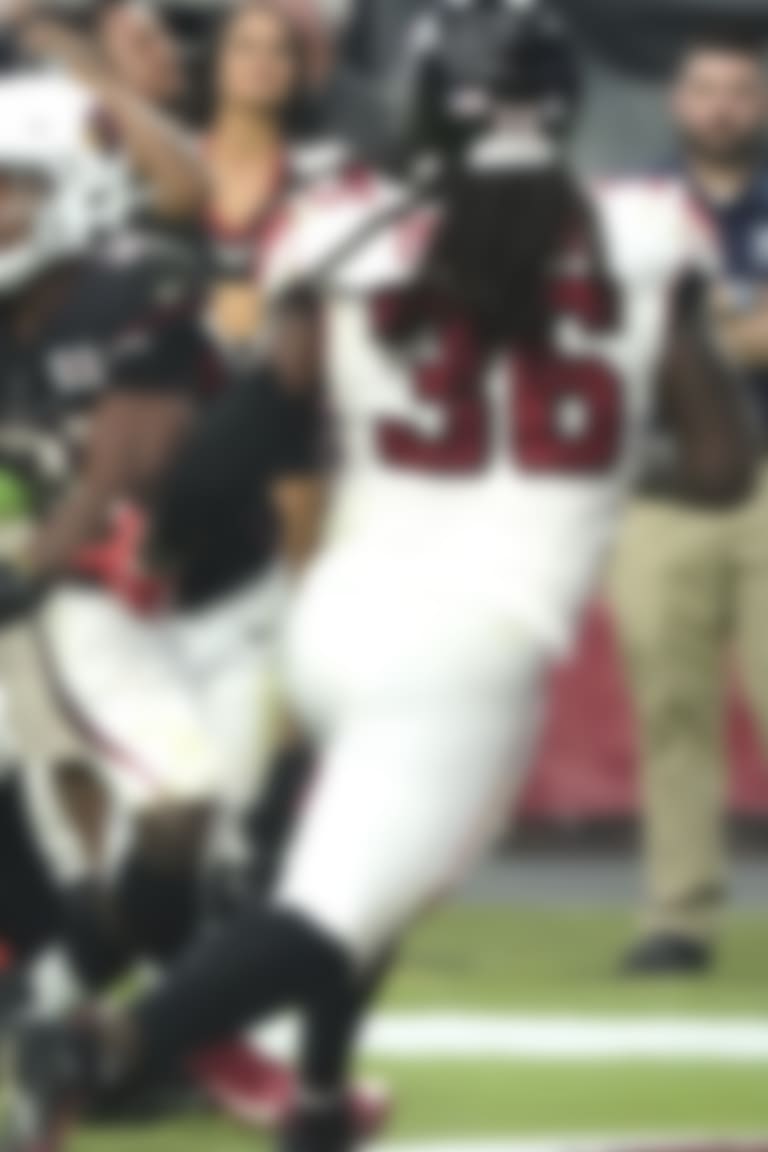 On top of changing teams this offseason, Johnson has been forced to adjust to training in the age of COVID-19. He kept his family in Arizona instead of moving them at the height of the pandemic. He's tried to pick up as much as he can through the team's virtual offseason and leaned on his creativity while training at home. It wasn't uncommon for him to seize the play things of his 3-year-old son, D.J., for help, whether that meant performing pull-ups on a jungle gym or abdominal roll-outs with a toy car.
What Johnson didn't do was let go of that sinking feeling he had in his stomach as he stood on the sidelines in Arizona's 31-24 season-ending loss to the Los Angeles Rams. He didn't play a down in that game.
"That was the most frustrated I've ever been," he said. "To be benched and be third-string — that was the lowest. I really had to lean on my family and reading the Bible after that day. That and knowing deep down that I still had the ability to play in this league."
That desire to keep grinding, regardless of the circumstances surrounding him, has been Johnson's trademark. The details of his childhood have been told so many times over — his single mother, Regina, raised six children (Johnson is the middle child of triplets) while working various jobs and battling alcoholism at one point (she no longer drinks) — that Johnson doesn't even like delving into those memories anymore. What is apparent is that those early struggles molded Johnson into a man who strongly believes in the power of family, faith and perseverance. While other kids often see their souls harden in the midst of adversity, Johnson's became more compassionate with every tough life lesson he experienced.
When money became tight in the Johnson home, David went to work. One of his most memorable experiences came in the eighth grade, when he spent the summer detasseling corn in his hometown of Clinton, Iowa. Wearing pants and long-sleeved shirts in stifling humidity, he'd walk down rows of cornfields and pluck the tassels off the tops of stalks. The heavy clothing was supposed to prevent the corn tassels from irritating his skin, but rashes continually erupted on his knees and elbows during those sessions. Even at that young age, he refused to complain when he was hurting, which wasn't always easy.
When he was a lightly recruited star at Clinton High, he once opened a recruiting letter from Iowa State and saw the team had spelled his last name "Jacobson." Other college coaches watched his tape and tabbed him as a nice kid without much of a motor. Northern Iowa head coach Mark Farley had his own doubts about Johnson before seeing the player at summer camp prior to Johnson's senior year.
"We wanted to see his work ethic," Farley said. "David is such a quiet kid that you can't really get a feel for him unless you're around him daily. He was productive in high school, but not to the point that he would attract Division I scholarships. But you could see the passion in his eyes. He wanted to be great."
Johnson blossomed into a star at Northern Iowa. He became Northern Iowa's career leader in rushing yards (4,682), all-purpose yards (6,416) and rushing touchdowns (49). Incredibly, he still found it hard to excite scouts at the professional level. The Cardinals actually were more enamored with the prospect of selecting Nebraska running back Ameer Abdullah in the second round of the 2015 draft until the Detroit Lions picked him before Arizona had a chance.
"The thing that hurt David was that he didn't break the long runs in college," said Cardinals general manager Steve Keim during a 2017 interview with NFL.com. "That's the only reason he wound up being a third-round pick. He could do a lot of other things you liked at the position, but he didn't look as explosive on tape."
Johnson found proving himself at his first training camp to be just as challenging. He entered it as the fourth-string running back and struggled with fumbling early. It eventually reached a point that it almost became an obsession.
"David wasn't stressed out, but he was disappointed in himself," recalled Meghan Johnson, David's wife. "He kept looking at his iPad (when he watched film) to see what he'd done wrong and always blamed himself. That's what makes him such a great athlete, that he's such a perfectionist. He told himself that he wanted to be one of the best in the league and he was going to figure it out."
It didn't take long for those concerns to vanish. Bruce Arians, the Cardinals' head coach at the time, eventually sensed he had a weapon that could be unleashed as a runner, receiver and returner. Keim saw the potential when Johnson dashed past him during a training camp practice and showcased the dynamic element that the rookie supposedly lacked. Before long, it became clear that Johnson needed as many touches as possible, even if he was splitting time in the backfield with Chris Johnson and Andre Ellington.
"You could see the talent," said Cardinals wide receiver Larry Fitzgerald. "He had a little hamstring injury when he first got here, but then he started showing little flashes here and there. He caught a pass in his first game and went 55 yards for a touchdown (against New Orleans). Then he had a kick return for a touchdown (108 yards) in his second game (against Chicago). I started thinking, OK, this guy is going to do some things for us."
"I felt blessed," Johnson said when asked about that first season. "I felt inspired, encouraged. All that hard work, everything that I went through — from being overlooked to coming in as a third-rounder to having question marks on my name coming from a small school — I felt like everything I went through finally was paying off."
Johnson finished that rookie season with promising numbers: 581 rushing yards, 457 receiving, a 27.2-yard average on kick returns and 13 touchdowns. He was more impressive in his second year, when he tied Barry Sanders' record for most consecutive games with at least 100 yards from scrimmage (15). Johnson started his third season focusing on how to improve his pass protection — the only part of game where he wasn't excelling at that point — but then found that adversity was still going to be a key part of his narrative.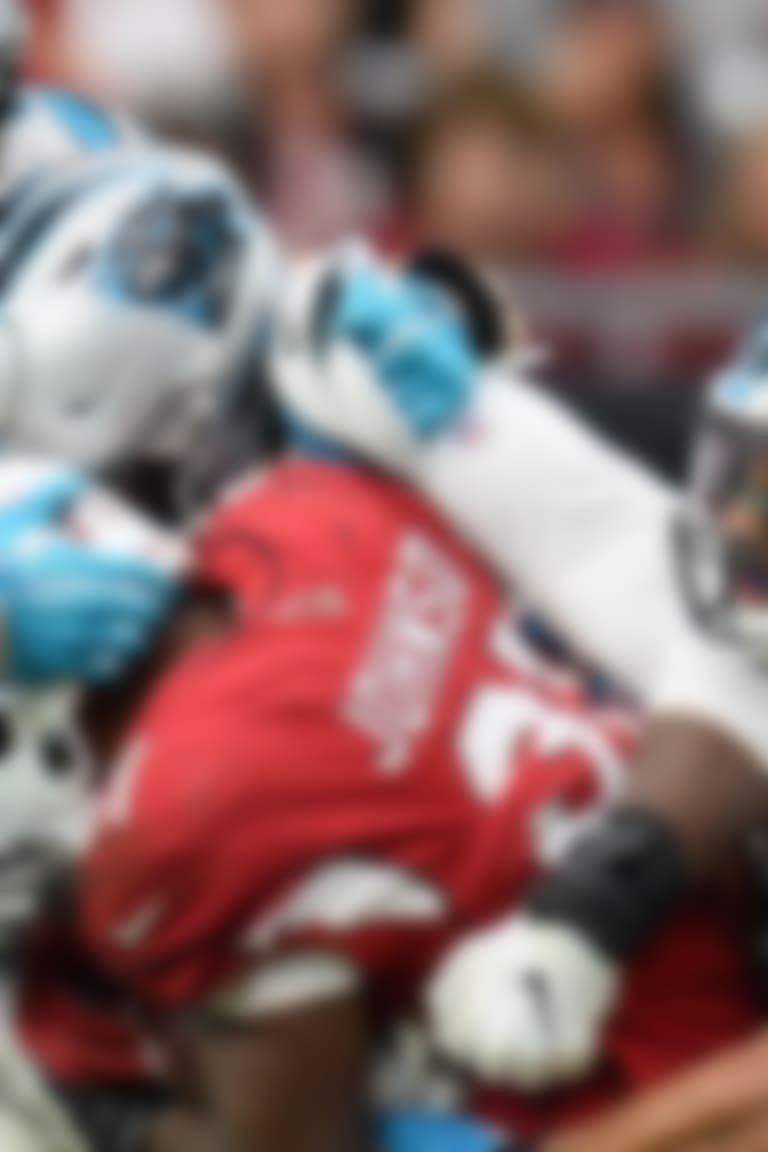 The 2017 season was supposed to turn Johnson into a household name. It ended after he took a handoff midway through the third quarter of Arizona's season-opening loss to Detroit, ran around left end and slammed into defensive tackle A'Shawn Robinson. The ball squirted out and the hit dislocated Johnson's left wrist. He didn't play another down that year after undergoing surgery.
The Cardinals still rewarded Johnson with an extension as he headed into 2018, which would've been the final year of his rookie deal. Unfortunately for him, the team assembled around him wasn't nearly as impressive. The Cardinals relied heavily on an overwhelmed rookie quarterback (Josh Rosen), a woeful offensive line and an offensive strategy that often had Johnson running between the tackles when he'd been at his best working on the perimeter and in the passing game.
"I won't say I felt like a marked man that year," said Johnson, of a season in which he ran for 940 yards and caught 50 passes but averaged just 3.6 yards per carry. "But I did feel like I had to perform because of the contract. And the defenses were always keying on me."
It didn't seem possible that Johnson could go three straight years struggling with frustration, but that's exactly what happened. The arrival of Kliff Kingsbury, the installation of his Air-Raid spread offense and the drafting of Heisman Trophy-winning quarterback Kyler Murray were all supposed to inject new life into the Cardinals. Somehow, a different message made its way to Johnson. Instead of being viewed as one of the team's best weapons, he was treated more as a dispensable talent.
Johnson had a few games that reminded people of what he could do — he had 137 total yards and a touchdown in a season-opening tie with Detroit and 156 total yards in a 26-23 win over Cincinnati — but he eventually began sliding down the depth chart. Nagging injuries to his back and ankle played a role in that decline, as did Kingsbury's philosophy on utilizing his ball carriers.
"Coach Kliff was big on playing the hot guy," said Johnson, while acknowledging that he did talk privately with Kingsbury about his diminished playing time on a couple occasions. "He was the coach, the final judge, and that's the way he was going."
Johnson ultimately played in 13 games. After a Week 6 win over Atlanta — when he had 12 carries for 34 yards, six receptions for 68 yards and two total touchdowns — he barely touched the football again. He had 18 rushing attempts and six catches over the remainder of the year. Meanwhile, Drake, who arrived at the trade deadline, received the bulk of the opportunities, finishing the second half of the season with three 100-yard games.
Keim declined to comment for this story, but he did talk about Johnson at the combine in February, a couple weeks before the trade occurred. At that time, the Cardinals GM said, "I think that because of the success that Kenyan had and because of the success Chase (Edmonds) had, I think that's something that will be a chip on [Johnson's] shoulder."
Kingsbury also spoke at that event, saying, "We feel like Chase and David did a tremendous job before they got hurt. When Kenyan got his opportunity, he seized it and ran with it."
Johnson obviously saw his fall from grace differently.
"I've been learning a new offense every year for the last four years," he said. "I had three different offensive coordinators and head coaches (before leaving Arizona). I felt like I never could get into a groove. Obviously, bumps and bruises are going to happen. With new coaches and new systems, it felt like I was always trying to get back to the level I was at in 2016. When things start going against you, it can seem like it's always an uphill climb."
Johnson didn't have any idea what his future looked like when last season ended. The size of his contract made it hard to think there would be a ton of suitors. The lack of opportunities in Arizona left him wondering how he'd handle a full season as a bench-warmer. Then the Texans vaulted into his life, seemingly out of nowhere, and provided the kind of hope he believes will recharge his career.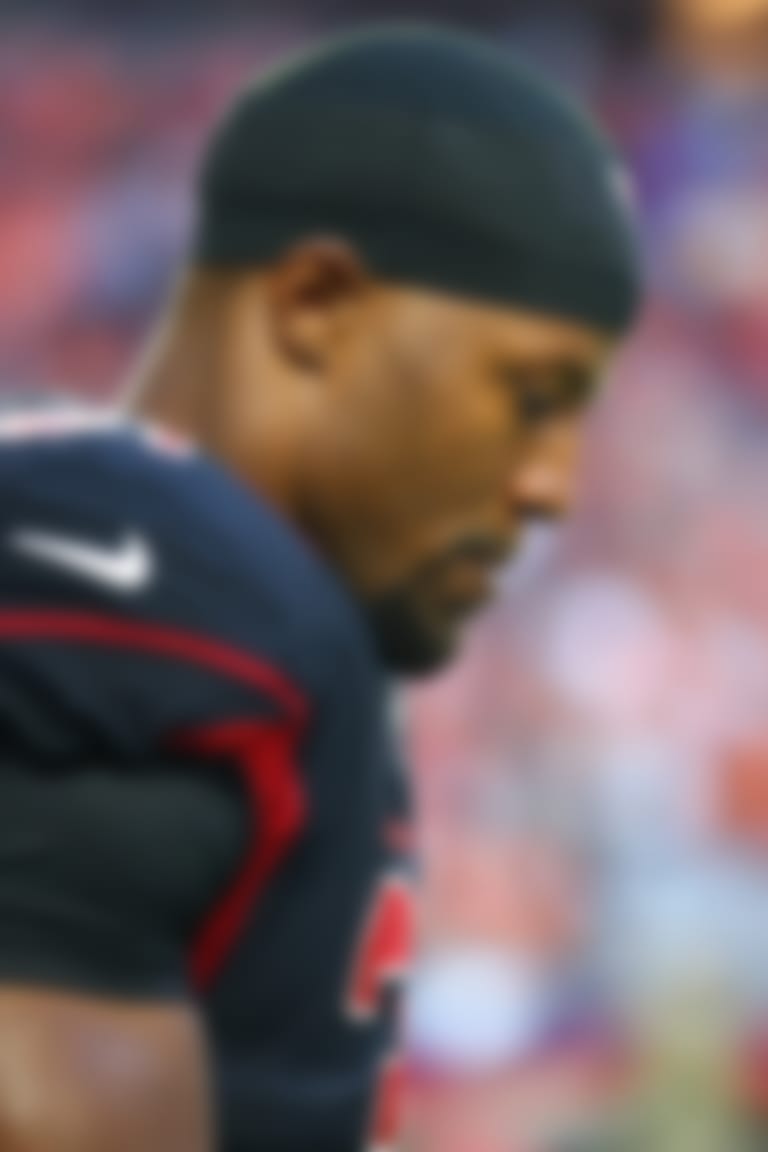 One issue Johnson wants to clarify is that there are no hard feelings about how his Cardinals tenure ended. Some fans saw a tweet he posted on Twitter after the trade — Johnson wrote that "When the grass is cut, the snakes will show" — as an indication of his bitterness. He laughed at that insinuation, saying, "It definitely wasn't a shot at the organization. I love the community and the franchise, and the fans always have been great to me. I still do things for the people there, especially with COVID-19 being such a problem."
Still, nobody would begrudge Johnson if he wasn't a little upset with how the last three years played out. He's gone from being a budding superstar to being an easy punchline, largely because of misfortune and bad timing. He couldn't control the injuries nor the fact that the Cardinals bottomed out just as he turned into a multimillionaire. That's just life in the NFL sometimes.
The good news for him is that there is a new chapter starting in Houston. As O'Brien said, "David is a prideful guy. I don't want to speak for him, but I can tell he feels welcomed here, even if it's mainly been through Zoom (video conferences). When I've spoken to him, I can tell he's excited."
Of course, there's plenty of incentive for Johnson. He's back in a familiar place — with the doubters lining up against him — and he has a long track record of being at his best when he's the underdog.
"When you think about the perception of running backs, you're already being doubted when you come into the league because people think you'll only last for three years," Johnson said. "When you look at the injuries I had, they weren't career-threatening. Aside from the wrist, none of them were even season-ending. Then there's the trade, where you have D-Hop, who's proven himself, and that plays a big role in what people are saying about me. So I definitely want to get out to Houston to prove people wrong. I've been doing it my whole life. This will be nothing new to me."
Follow Jeffri Chadiha on Twitter at @jeffrichadiha
Source: Read Full Article