AFLW season preview: Footy is back, in early January
Footy is back on Friday night, when St Kilda and Richmond open the 2022 AFLW season.
There's been turbulence in the build-up, with COVID-19 making its presence felt at clubs during the pre-season, and likely to be a factor throughout the campaign.
Ahead of the first bounce, we look at every club's preparation, chances and nominate the key players to watch.
ADELAIDE CROWS
Captain: Chelsea Randall
Coach: Matthew Clarke
Last year: Finished top of the ladder, lost grand final by 18 points to Brisbane (7 wins, 2 losses).
Where they're at: The Crows were a force to be reckoned with last year but are fresh off grand final heartache. Skipper Chelsea Randall was ruled out with concussion and star player Erin Phillips battled ongoing knee issues, hindering her normally prolific influence. The Crows have lost 22-year-old talent Chloe Scheer but if Ebony Marinoff is in the same form, and they can remain injury free, we could well see them in another grand final. Furthermore, dual premiership defender Deni Varnhagen has been transferred to the inactive list because of her refusal to be vaccinated.
Player to watch: Ebony Marinoff had a breakout season in her fifth year on the Crows list, taking home the club's best-and-fairest award.
Prediction: 3rd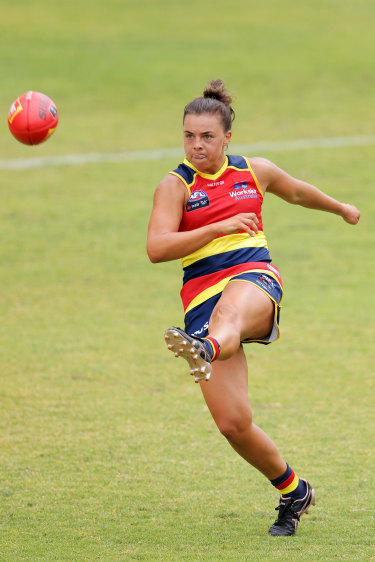 Ebony Marinoff.Credit:Getty Images
BRISBANE LIONS
Captain: Breanna Koenen
Coach: Craig Starcevich
Last year: Premiers (7-2)
Where they're at: Fresh off a premiership, the Lions are looking fierce. Despite having lost Emma Zielke and Lauren Arnell to retirement, Starcevich hasn't made any drastic list changes which should enable the young list to continue their momentum. The side has shown they can adapt to winning on the road, a crucial aspect given looming fixture changes.
Player to watch: Jess Wuetschner is a dangerous small forward who timed her rise perfectly in the grand final, clocking four tackles and two goals. Having led the club goal scorers in 2018 and 2019, she will be one to keep an eye on.
Prediction: 2nd
CARLTON
Captain: Kerryn Harrington
Coach: Daniel Harford
Last year: 7th (5-4)
Where they're at: The Blues have lost some significant talent in Tayla Harris, Jess Hosking and Chloe Dalton. AFLW leading goalkicker Darcy Vescio and Nicola Stevens remain while the solid midfield machine in Maddy Prespakis, Abbie McKay, Lucy McEvoy and Grace Egan will need to remain strong and work around the hard tag that will be applied to Prespakis.
Player to watch: Brooke Walker missed the first seven games last season due to a foot injury but is one of their strongest runners and could be what they need in the centre.
Prediction: 9th
AFLW ROUND ONE
Friday, January 7
St Kilda v Richmond, SkyBus Stadium, 7.15pm
Saturday, January 8
North Melbourne v Geelong, Arden Street, 5.10pm
Western Bulldogs v Melbourne, Whitten Oval, 7pm
Fremantle v West Coast, Fremantle Oval, 8.50pm
Sunday, January 9
Adelaide v Brisbane Lions, Flinders University Stadium, 2.10pm
Carlton v Collingwood, Ikon Park, 4.10pm
Gold Coast v GWS, Great Barrier Reef Arena, 6.10pm
* All times AEDT
COLLINGWOOD
Captains: Brianna Davey, Steph Chiocci
Coach: Steve Symonds
Last year: 3rd (7-2)
Where they're at: The Pies won their first final last season against North Melbourne, a far cry from their first few years in the competition. Their defence is what has seen them vastly improve thanks to Stacey Livingstone and Ruby Schleicher. Chloe Molloy and Sophie Alexander are joined in the forward line by ex-Tiger Sabrina Frederick and VFLW leading goalkicker Imogen Barnett.
Player to watch: Chloe Molloy is a workhorse and has arguably been the Magpies' difference between winning and losing games; after 16 goals in 2021 she will be one to keep an eye on.
Prediction: 4th
Chloe MolloyCredit:Getty Images
FREMANTLE
Captain: Hayley Miller
Coach: Trent Cooper
Last year: 5th (6-3)
Where they're at: After disappointingly departing in the first week of finals in 2021, the Dockers are looking strong. With the loss of Sabreena Duffy and Ashley Sharp in the forward line, pressure will be on Gemma Houghton to compensate.
Player to watch: Star midfielder Kiara Bowers won her third club champion award, shared the AFLW best and fairest, and won the AFL Coaches Association champion player of the year award last year, so eyes will be on her to maintain her dominance.
Prediction: 6th
GEELONG
Captain: Meg McDonald
Coach: Dan Lowther
Last year: 13th (1-8)
Where they're at: The Cats welcome new head coach Dan Lowther after a lacklustre 2021, finishing second last on the ladder and only winning the one game for the season. The loss of young star midfielder Olivia Purcell is significant but look for Chantel Emonson and Chloe Scheer to fill the gap.
Player to watch: Midfielder Nina Morrison will return from her second ACL injury and will be exciting to watch in a new-look midfield.
Prediction: 11th
GOLD COAST
Captain: Hannah Dunn
Coach: Cameron Joyce
Last year: 14th (0-9)
Where they're at: The Suns will hope for improvement under their new coach, after claiming the wooden spoon in 2021. While unlikely to return to their finals form of their debut season, the off-season has seen a lot of player movement which may see teething issues early on. Welcome additions include youngsters Charlie Rowbottom and Tara Bohanna.
Player to watch: Charlie Rowbottom was the No.1 pick in the 2021 AFLW draft. The 18-year-old is a powerful midfielder and was named in the starting midfield of the under-19 All-Australian team.
Prediction: 14th
GWS
Captain: Alicia Eva
Coach: Alan McConnell
Last year: 9th (4-5)
Where they're at: This is GWS' last season as the only team in NSW, before Sydney join and raid the talent pool. GWS missed out on a finals appearance after a last-round loss to Carlton, so will be looking for redemption in 2022. They've bolstered their experience in Jasmine Grierson, Katie Loynes and Chloe Dalton. Jess Doyle and Brodee Mowbray are welcome additions to a side that lost some of its best ball users over the trade period.
Player to watch: Ally Morphett is an exciting player in ruck as well as up forward. The Giants' first selection in the most recent draft, she'll be one to watch.
Prediction: 7th
KANGAROOS
Captain: Emma Kearney
Coach: Darren Crocker
Last year: 6th (6-3)
Where they're at: After locking in a finals appearance but falling to the Magpies, Darren Crocker will be determined to go further in his second year in charge. Eyes will be on the forward line, with Daisy Bateman and Daria Bannister a tried and true partnership, and with the addition of Kim Rennie they could be in contention for another finals appearance.
Player to watch: Kaitlyn Ashmore could become the first person to play 50 AFLW games this season.
Prediction: 5th
MELBOURNE
Captain: Daisy Pearce
Coach: Mick Stinear
Last year: 4th (7-2)
Where they're at: Perhaps the team most primed for a shot at the flag, with Daisy Pearce at the helm of a heavily experienced side, with a recent injection of young talent. Alyssa Bannan and Eliza McNamara played every game in their first seasons last year and with the experience of Karen Paxman they are looking dangerous.
Player to watch: Former Blue Tayla Harris has joined Melbourne in a flurry of controversy. The prolific goal scorer will be a huge addition to the already experienced side. She will face her former team in round 10. Eden Zanker is a commodity around stoppages and bolstered their scoreboard last year.
Prediction: 1st
Melbourne's big-name recruit Tayla Harris.Credit:Ben Gibson / Melbourne FC
RICHMOND
Captain: Katie Brennan
Coach: Ryan Ferguson
Last year: 10th (3-6)
Where they're at: After a winless first season, the Tigers showed improvement as season 2021 progressed. Jess and Sarah Hosking reunite this season in the yellow and black, a welcome relief after losing Sabrina Frederick to Collingwood. Poppy Kelly will be a valuable addition to the forward line.
Player to watch: Courtney Wakefield will have a big load to carry with the loss of Frederick.
Prediction: 10th
ST KILDA
Captain: Hannah Priest
Coach: Nick Dal Santo
Last year: 11th (3-6)
Where they're at: A new coach in Nick Dal Santo, but the Saints are likely to be without their first and second-place winners in last season's best and fairest, in Georgia Patrikios and Tyanna
Smith. Patrikios has not yet been vaccinated and has stepped away from football for the time being, but Smith is out for the entire season after rupturing her ACL. Additionally, Claudia Whitfort's departure to the Suns means there are big gaps in the squad. However, some notable injured players return, Liv Vesely will boost the midfield group, while Molly McDonald will be hoping for better luck this year after back-to-back quad strains.
Player to watch: With the above notable omissions, eyes will be on Rhiannon Watt after she led the club for contested possessions in 2021.
Prediction: 13th
Missing in 2022: Georgia Patrikios.Credit:AFL Photos
WEST COAST
Captain: Emma Swanson
Coach: Michael Prior
Last year: 12th (2-7)
Where they're at: Prior is the Eagles' third coach in three seasons, so it will be an adjustment again. Injury plagued them last year but by all reports things are looking more positive injury-wise. The Eagles have never won a western derby and their chance comes in a season-opener after fixture changes.
Player to watch: Bella Lewis was the club best-and-fairest winner in her first season last year and she's showing no signs of slowing down in pre-season training.
Prediction: 12th
WESTERN BULLDOGS
Captain: Ellie Blackburn
Coach: Nathan Burke
Last year: 8th (5-4)
Where they're at: Ellie Blackburn had another impressive season in 2021 and Kirsty Lamb enjoyed a career-best year, but Gabby Newton's shoulder injury will put her out for the whole season which will be a notable loss.
Player to watch: Jess Fitzgerald had an impressive debut season. The No.2 pick of the 2020 AFLW draft was strong in stoppages and could be their secret weapon.
Prediction: 8th
Most Viewed in Sport
From our partners
Source: Read Full Article