Zantuck wins court bid, can sue Richmond for alleged negligence
Former Richmond footballer Ty Zantuck has won a "landmark" decision in the Victorian Supreme Court giving him more time to prosecute his claims against the Tigers for a back injury and repeated head trauma.
Associate Justice Mary-Jane Ierodiaconou released her findings on Tuesday, after Zantuck sued the club and two doctors – current club doctor Greg Hickey and former club doctor Chris Bradshaw – over allegations they breached their duty of care in the treatment of his back injury when he played in 68 matches for the Tigers between 2000 and 2004.
His lawyers, using video evidence of several clashes, had also told the court that Zantuck had endured multiple concussions, leaving him with brain trauma. Zantuck has previously spoken of having had suicidal thoughts.
Former Richmond forward Ty Zantuck, seen here in 2004, has his bid in the Victorian Supreme Court seeking an extension of time to launch an injury case against the Tigers.Credit:Getty Images
Zantuck's lawyer Lachlan Armstrong QC had argued for an extension to be granted to the statute of limitations for bringing a civil claim. This argument was rejected by lawyers acting for the Tigers, who said it was "very significantly out of time".
However, Justice Ierodiaconou concluded her 49 pages of findings by saying: "Mr Zantuck's application to extend time in relation to both the back injury and concussion claims is allowed. I will give the parties an opportunity to make submissions on orders consequential to this ruling."
Zantuck's agent Peter Jess said the decision was a "landmark finding" and the "AFL's worst nightmare".
"It could lead to more cases by former players," Jess told The Age.
"This is a landmark decision for a number of reasons. First and foremost, it recognises Ty is an employee of Richmond, which then means it addresses the issues in the Agar v Hyde duty of care court case which has been the moat for the AFL.
"Up until now, the defence was that you, as a player, knew it was a dangerous sport, so you knew what you were getting into. The two exceptions were that if you were an employee and if there was negligence. It's now been found Ty was an employee, so he can be the first player to take action this way."
Zantuck, who had been close to tears when giving evidence in April when alleging the Tigers' treatment had been "horribly wrong", and the Tigers have been contacted for comment. The AFL did not wish to comment.
The concussion aspect of Zantuck's case is only against the Tigers, and not specifically Dr Bradshaw and Dr Hickey. As part of Zantuck's submission, neuropsychologist Associate Professor Jennifer Batchelor said she suspected Zantuck has the degenerative brain disease "traumatic encephalopathy syndrome" which was "evidence of acquired cognitive impairment".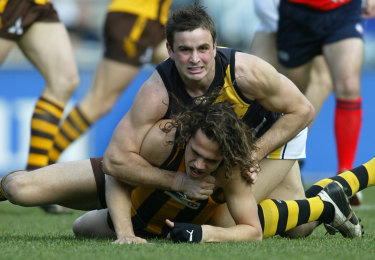 Richmond's Ty Zantuck tackles Hawthorn's Mark Williams in round 21, 2004.Credit:Sebastian Costanzo
Justice Ierodiaconou said: "There is no evidence from any of the defendants that positively asserts or even suggests that RFC had a concussion management protocol in place at the time. There are just a couple of weekly notes."
In his writ, Zantuck, 40, claims doctors gave him more than 20 epidural injections to ease his back pain and to keep training and playing, and that the club forced him to take part in a pre-season training camp that exacerbated his condition.
Justice Ierodiaconou ruled that "Mr Zantuck's loss arising from the alleged injuries is substantial".
"His evidence is that as a consequence of pain arising from his back injury, he has been unable to work in a stable job save for a six-month period in 2009. This has placed him in financial distress. Mr Zantuck's back pain is such that he uses a spinal stimulator," Justice Ierodiaconou said.
Another of Justice Ierodiaconou's findings said: "The allegations in respect of both the brain injury and back injury are grave. Both allege repeated acts or omissions resulting in significant injury. I refer to the allegations of injections, and the allegations of a failure to have an adequate policy or system to manage concussion. These are factors that 'should be brought into the evaluation'."
Zantuck spent 2005 at Essendon where the court was told on Thursday that the Bombers refused to administer the epidural injections, prompting Zantuck to believe the Tigers had mistreated him. Zantuck's AFL career ended after a fortnight of pre-season training at Carlton in 2006.
Lawyer Neill Murdoch, representing Dr Bradshaw, did not want Zantuck to be a treated as a "reliable" witness, while it was also argued the deaths of former Tigers coach Danny Frawley and former Essendon club doctor Bruce Reid could impact any further hearing. The Tigers say they do not keep "back-up of data" of former players beyond seven years.
"The decisions about the proper management of Mr Zantuck would have necessarily been informed by many intangible and impressionistic things including how he presented, how he moved, what he said or did not say, his overall fitness, and clinical course. All of the details and nuances of the player's presentation, from week to week, and time to time, have been irretrievably lost in the intervening two decades," the Tigers claimed.
While Justice Ierodiaconou acknowledged these arguments, they were not strong enough to dismiss the Zantuck case.
"In conclusion, I accept there is general prejudice arising from the elapse of time. Further, that there is specific prejudice arising from the death of witnesses and the loss of medical records. However, weighing these factors with the evidence that is available, I am not satisfied that the prejudice to the defendants is such that a fair trial cannot be held," Justice Ierodiaconou said.
Support is available from Beyond Blue on 1300 22 4636.
Keep up to date with the best AFL coverage in the country. Sign up for the Real Footy newsletter.
Most Viewed in Sport
From our partners
Source: Read Full Article