In Neymar's absence, PSG lean on Mauricio Pochettino's golden touch in adversity
Mauricio Pochettino faces his biggest test as PSG manager
A short 45 days after being installed at the helm, Mauricio Pochettino is priming to navigate his first concrete challenge as Paris Saint-Germain manager – the very kind he was recruited for – amid a sharp increase in scrutiny.
Context is so often under-appreciated, sometimes disregarded altogether in modern football, which the Argentine is acutely aware of given the "but he won no trophies" experience despite reconstructing Tottenham into a domestic and continental thorn.
The result in the Champions League last-16 tie at Barcelona on Tuesday night will supersede how long he has been in the PSG job as well as the names of those unavailable for selection. 
At the scene of the club's historic embarrassment during La Remontada in 2017, with Neymar the chief orchestrator of the French side's demise back then, there is no room for excuses or caveats. 
Pochettino cannot bank on the Brazil international illuminating this fixture in their favour this time given the painful kick to his left abductor in the French Cup against Caen, which will carry a four-week recovery period.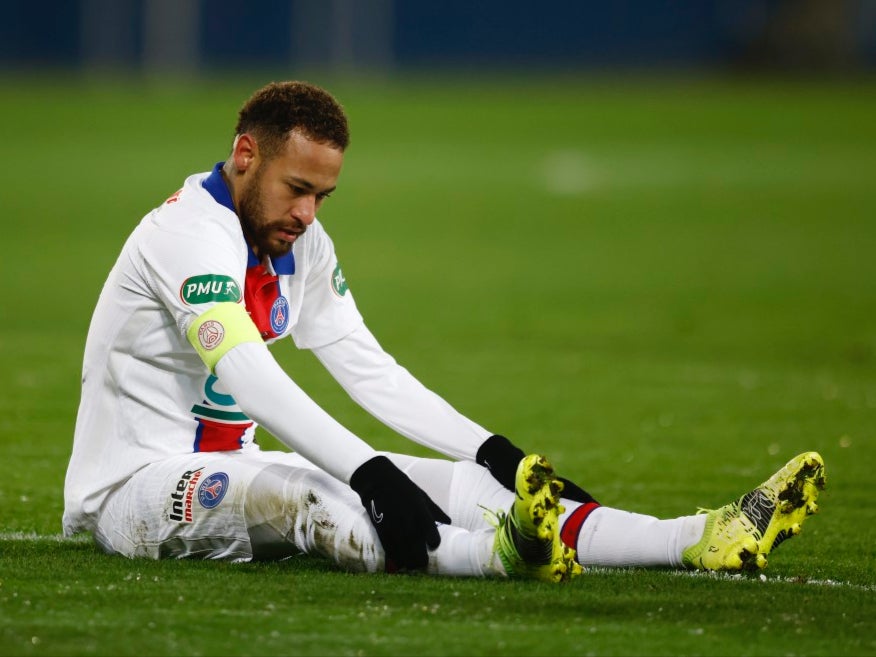 Neymar will miss the tie due to injury
The influential Angel Di Maria is also missing, leaving the manager without the foremost driving forces behind PSG's run to the final last season against a resurgent Barca, featuring a happier Lionel Messi.
Marco Verratti and Rafinha, meanwhile, are doubts. The situation is far from ideal and yet it suits Pochettino, who made a habit of defying the odds at Espanyol and Southampton, but most especially with Spurs. 
Independent Football Newsletter
Get the latest football headlines direct to your inbox twice a week
Read our full mailing list consent terms here
Tottenham's path to the final in 2019 was littered with obstacles: they were on the ropes in Group B with one point from three matches but secured their progress with a 1-1 draw at Camp Nou, beat Borussia Dortmund without Harry Kane and Dele Alli, drew the team no-one wanted to face in Manchester City (whom they had to play thrice in 11 days) and then defied time plus a 3-0 deficit to overcome Ajax.
Finding solutions and flipping the finger to convention has been part of Pochettino's USP.
It might explain why he flagged expectations rather than underplayed them on Monday and chose to focus on possibilities instead of the factors that are against PSG.
"This is a special game, even more so as I have been here for about 40 days," Pochettino said. "I can feel that the match is important for the team. Winning the Uefa Champions League is the main goal for the club. 
"The conditions are what they are, but we will be ready. I am very calm about that. What's done is done. The team is different from what it used to be and I am building something with this team.
"The atmosphere is extraordinary and we are united. These players want to build something for the club and its history. We want to shape a real identity for Paris."
Part of Pochettino's big blueprint against Barca will be devising a way to properly unleash Kylian Mbappe in the continental competition. 
The phenom has had more quiet nights under the lights than decisive ones since tormenting Champions League markers in Monaco's colours during 2016-17.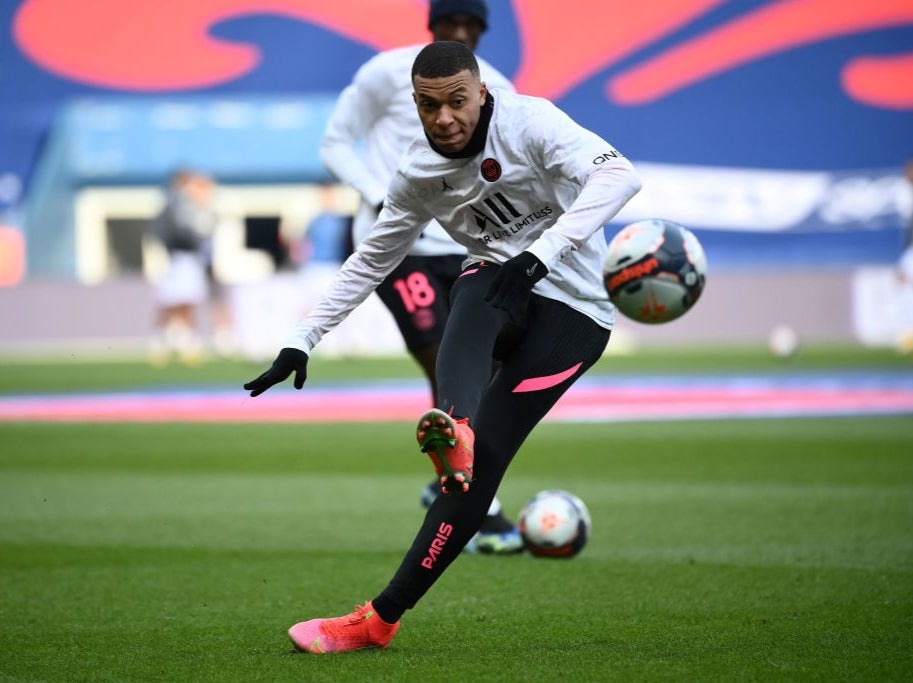 Pochettino must bring the best out of Kylian Mbappe
There have been disappointing outings in Neymar's absence against Real Madrid in 2018 and Manchester United last season. Mbappe's first goal in the competition in 2020 only materialised in December. 
Ronald Koeman, without Philippe Coutinho, Sergi Roberto, Ronald Araujo and Ansu Fati, hinted that part of Barca's directive will include stifling the World Cup winner as he "is very fast and can complicate things a lot."
Mbappe has to find a way to be the luminary for his side and has the opportunity to again outshine Messi as was the case when France ousted Argentina 4-3 on the grandest stage in 2018.
The world's best player is the primary target for PSG this summer in an interesting sidebar to the showdown. Pochettino, sporting director Leonardo and a host of players have been on a public charm offensive in the hopes of luring the 33-year-old to Parc des Princes. 
It has antagonised the hierarchy at Barca, but Koeman insisted: "They haven't destabilised us; I don't know if that was the intention from them when speaking about Leo."
However, it is Neymar PSG want to be the big talking point in the aftermath of this fixture –  or more precisely – how they managed to do damage without him. 
The visitors, who want to remedy the wrongs of La Remontada, can prey on the brittle psychology stemming from Barca's humiliating exits in the competition, conceding three at Juventus, three at Roma, four at Liverpool and then eight against Bayern Munich in Lisbon.
Clips from those games will have been part of the analysis meetings, an intriguing tactical look at how La Liga's giants collapse and the change in body language when they do.
Still, PSG enter Camp Nou as the unfancied side. The scale of the team, budget and expectations have drastically changed, yet the need for Pochettino's golden touch in adversity remains.
Source: Read Full Article