Leroy Sane exit only makes Man City's re-build more difficult and expensive
The last time Manchester City welcomed Liverpool to the Etihad, Leroy Sane scored the goal which decided not only the game but ultimately the title race. More than 18 months later, ahead of this season's corresponding fixture on Thursday night, the circumstances could hardly be more different.
Liverpool will walk out at the Etihad as newly-crowned Premier League champions, City will be the first team to give Jurgen Klopp's side a guard of honour, meanwhile Sane will be in his native Germany waiting to be – or having just been – announced as a Bayern Munich player.
That Sane has left is no surprise, though few expected his departure to come so quickly after Pep Guardiola's admission last month that the 24-year-old would not sign a new contract to extend his stay at the Etihad, having rejected multiple offers. Guardiola then suggested that a replacement may not be necessary.
Download the new Independent Premium app
Sharing the full story, not just the headlines
"We have enough good players up front," he said. "Gabriel [Jesus] can play on the left, [Phil] Foden can play on the left. We have Raheem [Sterling]. Most of them are in good condition, like Phil, Riyad [Mahrez], Gabriel and Raheem. Players like that can play quite regularly for a long time."
Guardiola claimed City have "other priorities", which is undoubtedly true. The issues at centre-back stemming from last summer's failure to replace Vincent Kompany need to be resolved in the next transfer window, or else City will stand accused of failing to address the problem which damaged this season's title defence more than any other.
But it is also true that Sane offered City something which is not in abundance at the Etihad and is fundamental to Guardiola's philosophy: width. The left-footed left winger's absence this season due to cruciate knee ligament damage deprived City of the unpredictability and variance that their heavily structured attacking play requires.
For that reason, despite what Guardiola has said publicly, it would not be a surprise to see Sane replaced when the market eventually re-opens.
There are no cast-iron guarantees, though. Too much uncertainty exists around the Etihad at present to make any promises. The Court of Arbitration for Sport's verdict is expected shortly and if a decision to uphold the two-year Champions League ban results in others considering their futures, the best laid plans could go awry.
And though City are thought to be pleased with terms of Sane's sale – a deal worth up to £55m for a player entering the final year of his contract and yet to fully return from a serious injury – losing a player of his ability is hardly ideal, not least because it leaves one more gap to fill in the coming rebuild.
While previewing Thursday's visit from the new champions, Guardiola admitted that when Sané's departure is combined with those of Kompany last summer, David Silva at the end of the season and the exits of Fernandinho and Sergio Aguero expected this time next year, it becomes clear that an overhaul of this City squad is necessary sooner rather than later.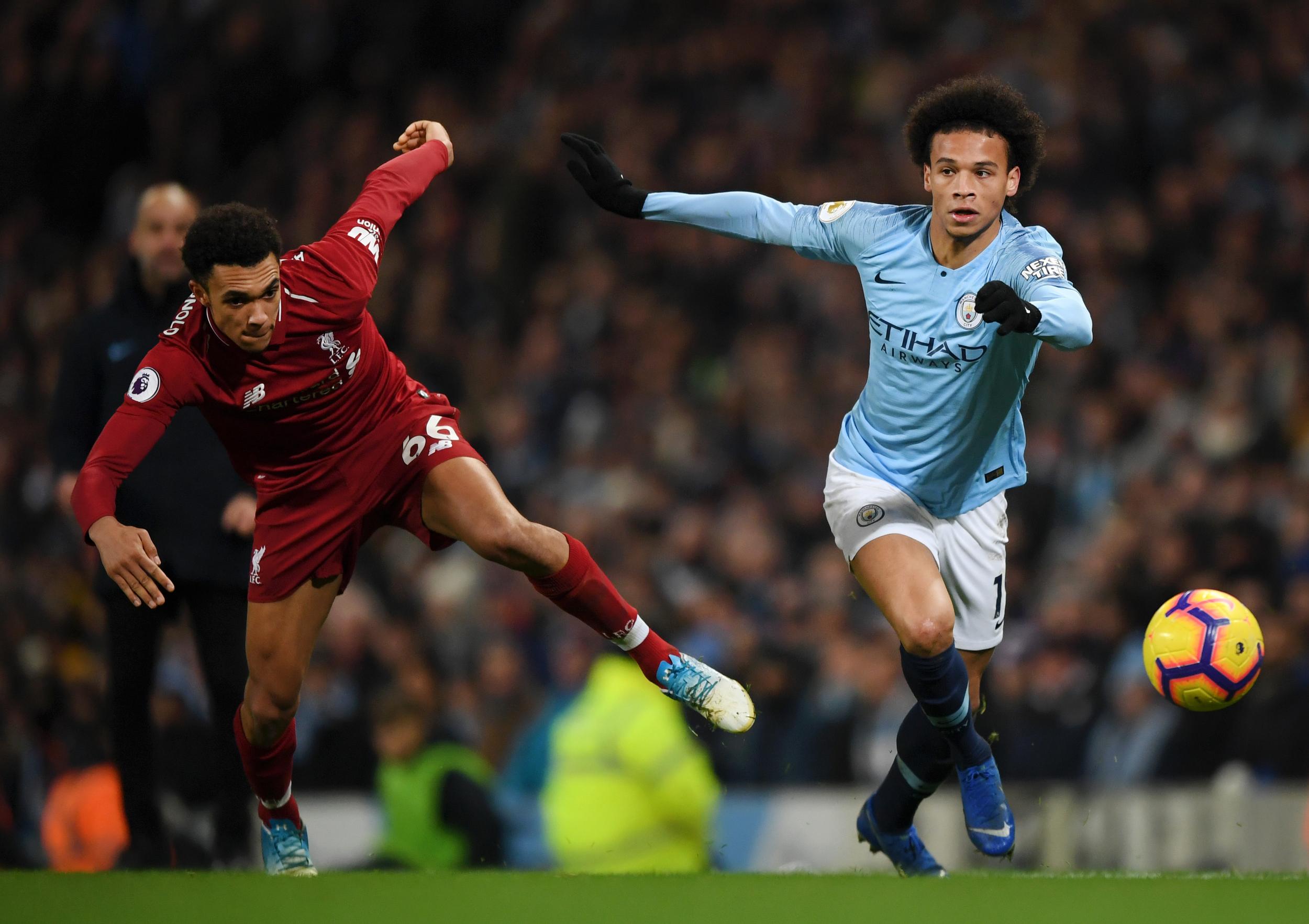 "Some players have to be replaced," he said. "But it's not a disaster thing, or bad thing, it's part of football for the age, for the normal situation and circumstances. It happens in other clubs and players who are considered important players for the club decide to leave, they don't want to be here."
Jadon Sancho will not be part of that rebuild – "No, no, no," insisted Guardiola – but others will. "We have to rebuild it," he said. "It happens at clubs around the world, you never can be eternal, and we have to accept it and try to take the right decisions as a club to try to maintain the level that we have."
It will be difficult, though, and the CAS verdict could make it harder still. The threat of Kevin De Bruyne or Raheem Sterling looking to move elsewhere will be real for as long as a two-year ban remains in play. De Bruyne, who turned 29 on Sunday, had publicly admitted he would find two years difficult to stomach.
In that worst case scenario, both would bring in substantial fees which could then be spread around the squad, but how many players of City's calibre would sign without guaranteed Champions League football? Would the lure of working with Guardiola be enough when the manager himself has a year left on his contract, without any indication he will renew?
It is not inconceivable that City may be unable to replace Sane because there are too many fires to fight in other positions. In that case, Guardiola would have to look within his own squad.
There is much excitement around Jayden Braaf, a 17-year-old Dutch winger in City's youth set-up. Braaf began training with the first-team squad this week and is undoubtedly a talent – scoring nine goals in 16 PL2 appearances – but if Foden's development teaches us anything, it is that Guardiola integrates young talent gradually.
Foden himself is another option, albeit not a long-term one. The 20-year-old started wide left in the 5-0 win over Burnley, scoring twice, but he is not a winger in the mould of Sane. Mahrez and Bernardo are also left-footed, though their best work comes when cutting inside. Sterling and Jesus are right-footed, meanwhile, and radically different propositions.
That may the biggest problem City face with Sane's departure. He is a traditional winger in a world of wide forwards, running on the outside while others cut in. Keeping him was not an option but closing the gap on Liverpool would be easier had he stayed. Replacing him would be difficult for any club, let alone one in City's unique predicament.
Sane ultimately made the difference in last season's title race. City will hope his departure is not the deciding factor in the next.
Source: Read Full Article