Man City's second-half masterclass stuns PSG in Champions League semi-final first leg
At half time in this semi-final first leg, this appeared to be the beginning of the end. It seemed as though this would be yet another underwhelming Champions League campaign that promised much but delivered little for Manchester City.
Paris Saint-Germain, that other member of European football's nouveau riche desperate for the validation of winning this competition for the first time, were in the ascendancy. Yet once both sides reemerged, Kevin De Bruyne and Riyad Mahrez served a reminder that one quarter of the way through a two-legged tie is not the time to draw definitive conclusions.
Nor is the halfway point, of course. It is still only half time in this two-legged tie, to use the old cliché. But with his players taking a pair of away goals into next Tuesday's return leg at the Etihad, Pep Guardiola will be confident that with a performance as composed, as authoritative and as dominant as their second half display at the Parc des Princes, they will reach next month's final in Istanbul, the first in the club's history.
Marquinhos' early header rocked City back on their heels and a free-flowing first-half performance by Mauricio Pochettino's side subverted many people's expectations. But with De Bruyne's flukish equaliser and Mahrez's free-kick, it is advantage to the Premier League's champions-elect. Only two teams in Champions League history have failed to reach the final after winning the first leg of a semi away from home.
This was a unique occasion and a potential watershed moment in the history of the sport: the first Champions League semi-final between two clubs owned and largely elevated to this rarefied level by rival petrocarbon empires.
That inescapable context was thrown into sharp relief by the combined cost of the two starting line-ups totalling more than £1bn. City could pass themselves off as the paupers for the evening to those still keeping count, their XI coming £20m short of PSG's. And yet, strip all that away, and it also promised to be an enthralling evening's entertainment. It did not disappoint.
This first leg – and maybe the tie itself – was always expected to be settled by PSG's threat on the counter-attack and City's ability to cope with it.
Guardiola attempted to dismantle that pre-match consensus, pointing out that PSG take to the pitch as favourites every weekend win Ligue 1 and are just as capable of breaking down deep-set defences as they are bursting at speed. City, though, are not Dijon, Lorient or Nimes and you could bet the farmers' league on Guardiola playing the imposing, dominant style which would offer Neymar and Mbappé space in behind.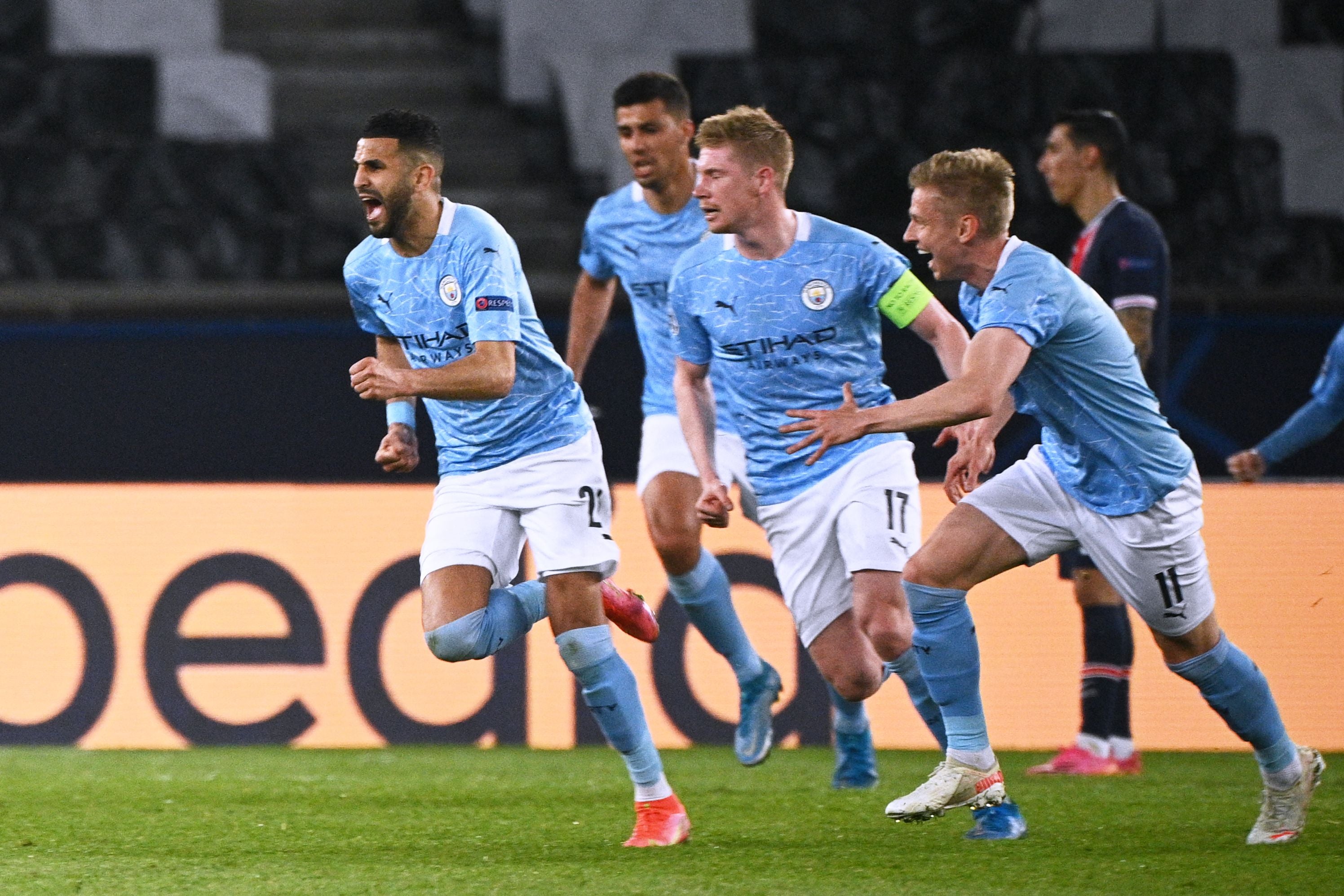 Riyad Mahrez celebrates scoring the winner
There was a hint of that after only two minutes, with Neymar taking advantage of a Rodri slip-up in midfield to force the first attempt on target, but things quickly began to deviate from the script. If anything, PSG were the ones imposing themselves on the contest, bending City to their will, forcing Guardiola to react. Four shots had rained down on Ederson's goal after a quarter of an hour. The fifth went in.
For all the talk of the counter-attack, the deserved Parisian breakthrough came from a set-play. City's defence has been exemplary in the Champions League this season but is still weak in dead-ball situations. Angel di Maria, no fan of the city of Manchester, whipped a devilish corner delivery from the right, flat and at pace. Marquinhos' run through Guardiola's zonal marking system was not picked up by a single City player, making his glancing header into the far corner a formality.
It was only the fourth goal that City have conceded in European competition this season. Their response to rare adversity would be critical. To their credit, they survived until half time but Leandro Paredes should have made another in-swinging corner count not long before the half-hour mark and instead sent his free near-post header wide. "Under the pressure in Paris", tweeted City's official account. That was one way of putting it.
There is still an errant strain of self-destruction about PSG, though. A stray pass deep in their own territory had invited Bernardo Silva to tap-in Phil Foden's header back across goal, only for Marquinhos to intervene. Another wayward ball later presented Foden with a golden opportunity, unmarked in the centre of the penalty area with the whole of the goalmouth to aim at, but Keylor Navas stood tall and firm to collect a shot that was right at him.
It was enough, though, to suggest the tide could be turned. Settled by the fact that there was three-quarters of this tie left to play, City reemerged with greater composure. Crucially, they began to contain and quell PSG's momentum. Save one moment where he almost set up Marco Verratti, Mbappé fell quiet. Neymar too. Guardiola was still not entirely satisfied by the hour mark and made a rare early change, sacrificing the cautioned Joao Cancelo, but things would quickly improve.
Was it a genuine attempt at goal? Probably not, but the uncertain flight of De Bruyne's delivery appeared to play on Navas' mind. Should he push the ball away from goal or allow his defenders to deal with it? The PSG goalkeeper chose the latter and by the time he had changed his mind, he was too late. De Bruyne's cross-cum-shot floated away from every head in the penalty area then nestled out of Navas' reach.
If City had shown composure, survived and eventually responded to their earlier setback, PSG failed to do the same. Quite the opposite, in fact. Paredes typified their hare-brained response to the equaliser by conceding a free-kick in dangerous territory on Foden and earning a yellow card for his troubles. And as one wall broke down, so did another. Sensationally, Mahrez found the minuscule gap between PSG's defenders as their bodies turned, pushing his shot through their attempts to block it and in.
It would get worse from the Parisian's perspective. Not long after Neymar had also been cautioned, Idrissa Gueye was shown a straight red card for a poor challenge on Ilkay Gundogan, raking his studs down the back of the City midfielder's leg long after the ball had gone and with considerable force. He will be missing from next Tuesday's rematch at the Etihad, a night which City hope will be historic.
Source: Read Full Article