Premier League awards: Team of the season, best player, transfer and moment of 2019/20
The 2019/20 Premier League season provided thrills and entertainment, a dominant, all-time great Liverpool side and the chaos of the coronavirus pandemic.
Project Restart has been a success as we approach the final round of games with qualification for Europe and relegation still to be decided.
While the golden boot is still up for grabs with Danny Ings (21) and Pierre-Emerick Aubameyang (20) looking to catch Jamie Vardy (23) on the final day.
Download the new Independent Premium app
Sharing the full story, not just the headlines
The conclusion of the FA Cup and Champions League is still to come in this elongated season.
But here, our Independent Sport writers hand out our season-ending awards.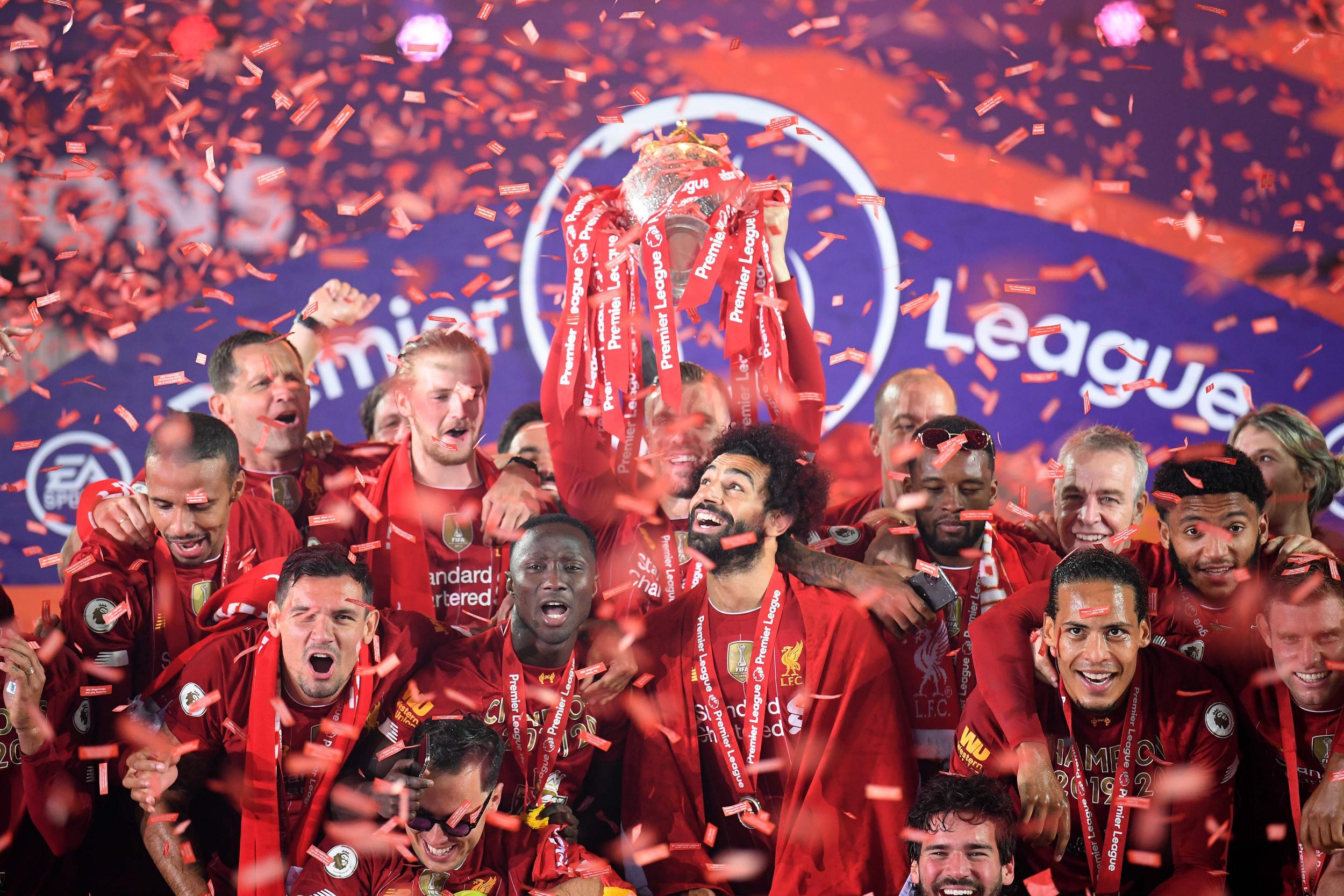 Player of the season
Miguel Delaney: Trent Alexander-Arnold. For all the debate over whether the forwards or Jordan Henderson have been best, it is the full-back (if you can even call him that) who has been the most consistent throughout the season – and the most impactful. He's been part of a defence that was often impregnable when it's mattered, supplied so many assists and goals and is key to how Jurgen Klopp's whole team operates.
Mark Critchley: Kevin De Bruyne. A bit like 1998-99 in that the individual triumphs over the collective, only he did a bit more than score a good goal against Barnsley in the FA Cup. De Bruyne was overlooked during Manchester City's 100-point season for Mohamed Salah too, so let's call it even.
Vithushan Ehantharajah: Danny Ings. Maybe it's my own ignorance, but I've been really surprised by the scale of Ings' quality this season. The goals speak for themselves, but the running, the work around the box, even the slickness of his first touch have been such a joy. As the pandemic hit, I wondered if he'd missed his chance at a late dart for the Euro 2020 squad given the injuries to Harry Kane and Marcus Rashford. But the way he has continued into lockdown – perhaps benefitting from the break more than most – suggests he can make a play for it next year without needing injuries to clear his path.
Alex Pattle: Kevin De Bruyne. While it would be obvious to choose a title winner, watching De Bruyne at times this season felt like we were watching the most talented player in the world right now (bar Lionel Messi, of course). City's European ban falling through might have been a Godsend for the club, as the Belgian could otherwise have been off to Barca or Real Madrid.
Lawrence Ostlere: Kevin De Bruyne. You may have different parameters for this category, in which case Raheem Sterling, Jordan Henderson and Marcus Rashford all deserve recognition for their work on and off the pitch, but on the question of who was the best footballer in the 2019-20 Premier League season, Sadio Mane falls just short of the magnificent De Bruyne.
Jack Rathborn: Kevin De Bruyne. He shouldn't need to, but he has carried City at times this season, the way he can knit everything together, produce a moment of brilliance to carve out an opening or just win a game by himself is a joy to behold. There is also the way he can move through the gears when the game's script necessitates it, a complete player back to his absolute best.
Tom Kershaw: Kevin De Bruyne. Liverpool have so many contenders, but on the basis of sheer individual quality and ability to single-handedly transform any game, the Belgian has been untouchable this season.
Karl Matchett: Sadio Mane. He was the most consistent and best-performing Liverpool player for a huge long stretch of the season, certainly for the first half of it. He scored key goals throughout too, whether they be the game's first goals or the winners, and his strength, creativity and endurance all make him critical to the team, too.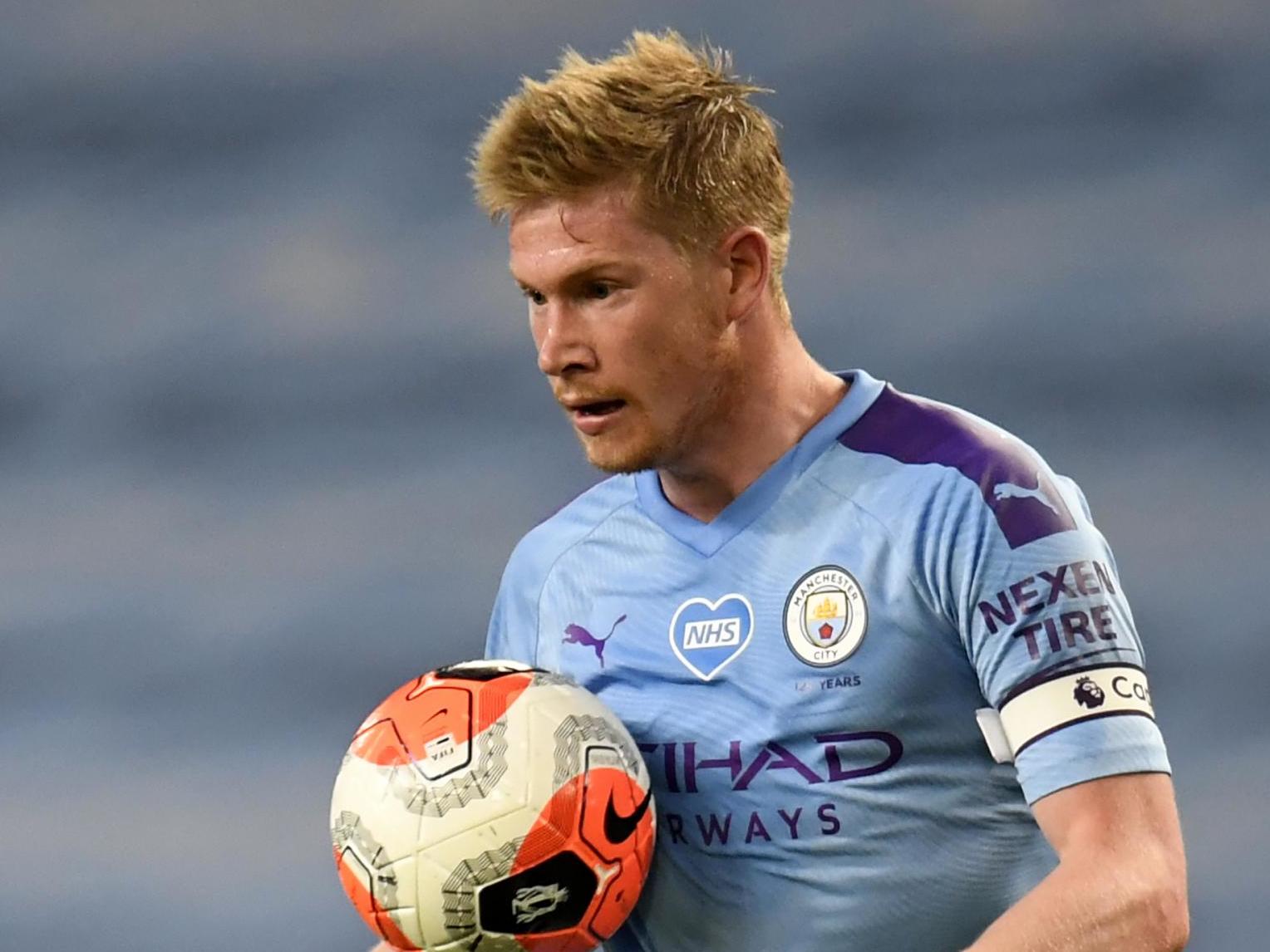 Manager of the season
MD: Chris Wilder. While Jurgen Klopp has made Liverpool maybe the finest champions ever, much of the hard work behind that was done in seasons leading up to this. No one, however, expected Sheffield United to finish so high. They had no right to. They had no right to regularly beat top teams so well. But here they are, thanks to Wilder, after perhaps the most impactful first season we've seen.
MC: Jurgen Klopp. This award is arguably about making the most of the resources you have – in which case, it should go to Chris Wilder – but it is easy to forget how imperious City appeared at the end of last season. Toppling them, let alone ending that 30-year wait for a league title, is a historic achievement.
VE: Chris Wilder. A toss-up between Jurgen Klopp and this man. But given how many teams come up and struggle either in their first year or second, it has truly been remarkable to see Sheffield United not just survive, but thrive. Yeah, we know about the slick operation on a tight budget. Yeah, we knew about the overlapping centre-backs. But few predicted they would be this comfortable at the top level. They could finish 10th and would have every right to be annoyed given the football they've played this season.
AP: Chris Wilder. Did any team suffer more from the suspension of the league than Sheffield United? If not for that sudden break in momentum, Wilder might well have led the Blades to a European spot in their first season back in the top flight – subverting assumptions about their style of play along the way.
LO: Jurgen Klopp. It's worth remembering that Liverpool won 26 of their first 27 matches this season, a run stretching from the beginning of August to the end of February. That is ridiculous, astonishing and unprecedented, and Klopp deserves huge credit.
JR: Jurgen Klopp: A staggering achievement to inspire such a relentless pace, but also to not only maintain that desire, but the harmony in the group throughout the entire campaign has been nearly perfect, which is not easy to do given this is not the first season of success experienced by the Reds.
TK: Chris Wilder raised Sheffield United to unimaginable heights, with a side many expected to be mired in relegation. But to sustain Liverpool's level of performance in the way Klopp did, and to win by such a dominant margin, makes it incredibly difficult to choose anyone else.
KM: Jurgen Klopp. He's not the only worthy candidate, but to keep the team at the level he has done, for as long as he has done, was near-unprecedented. They haven't broken all the records in the end, but most teams come close to beating just one at a time – this side has smashed through some and run others extremely close.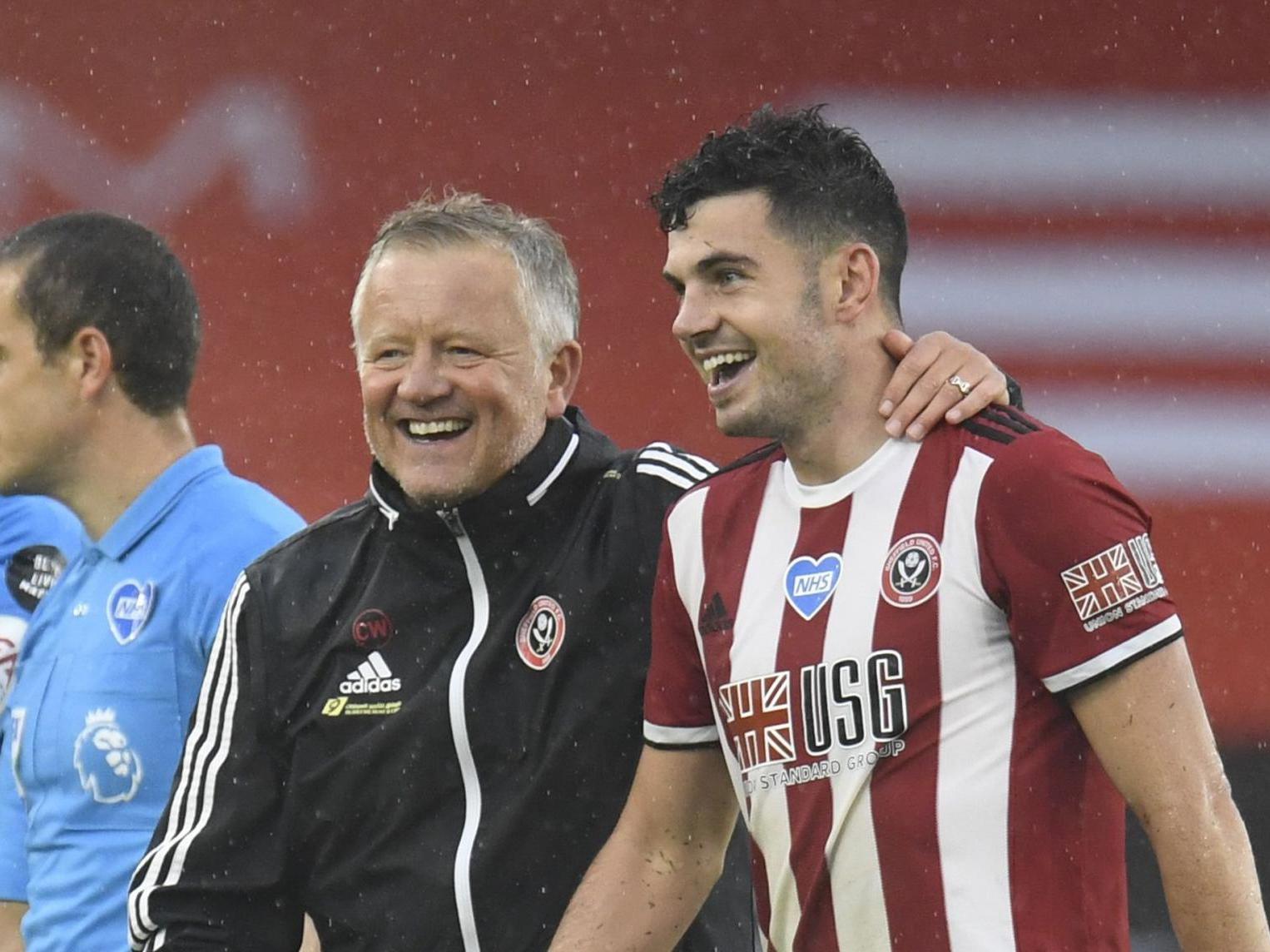 Team of the season
MD: Henderson, Alexander-Arnold, Van Dijk, Egan, Robertson, Henderson, Fernandes, De Bruyne, Traore, Vardy, Mane
MC: Dubravka; Basham, Van Dijk, Egan; Alexander-Arnold, De Bruyne, Fernandes, Robertson; Traoré, Ings, Mané.
LO: Dubravka, Alexander-Arnold, Evans, Van Dijk, Robertson, De Bruyne, Henderson, Fernandes, Mane, Vardy, Jimenez
JR: Schmeichel, Alexander-Arnold, Tarkowski, Van Dijk, Saka; Salah, Henderson, De Bruyne, Mane; Jimenez, Vardy
TK: Henderson, Alexander-Arnold, Soyuncu, Van Dijk, Robertson, Fabinho, Henderson, De Bruyne, Mane, Aubameyang, Vardy
VE: Pope, Alexander-Arnold, Van Dijk, Soyuncu, Robertson, De Bruyne, Ruben Neves, Henderson, Mane, Ings, Jimenez
AP: Pope, Alexander-Arnold, Laporte, Van Dijk, Robertson, Fabinho, Fernandes, De Bruyne, Pulisic, Ings, Mane
KM: Alisson; Alexander-Arnold, Van Dijk, Egan, Saka; Fabinho, Henderson, De Bruyne; Salah, Ings, Mane.
Goal of the season
MD: Fabinho versus Manchester City. It was like an arrow, and may have been one of the most important goals of the season.
MC: Jordan Ayew v West Ham, December 2019. It was this or Son Heung-min's against Burnley a few weeks earlier, which won the official December Goal of the Month. Ayew doesn't cover as much distance as Son but beats more players and the finish is lovely.
VE: Jordan Ayew vs West Ham. Ticks a lot of boxes: derby winner, last minute, beats a few men, dinks the keeper. Ayew starts out on the right as well – his natural foot – so the slaloming was that much tougher. The roulette turn not only takes him into the box and through two Palace defenders but also gets him back on his right foot. It's a brilliant collection of skills rather than the same kind of skill repeated. And the finish. Oooooof.
AP: De Bruyne vs Newcastle. I tried to avoid having the Belgian's name pop up here for a third time, but what can I say: I have a soft spot for half-volleys and another one for shots that fly off the crossbar and in. This strike had both.
LO: Son Heung-min dribbling through most of the Burnley team.
JR: I enjoyed many of Kevin De Bruyne's collection, including the sublime technique to volley home at Newcastle, but Moussa Djenepo's individual effort at Sheffield United was delightful, combining strength, speed and some lovely skill.
TK: Alireza Jahanbakhsh vs Chelsea The Iranian international has endured a torrid time at Brighton, often spending large spells out of the team, and had long chalked off as a terrible signing. But his spectacular overhead kick, snatching a point against Chelsea on New Year's Day, was a cathartic, pivotal, and frankly unbelievable moment.
KM: Alireza Jahanbakhsh with an overhead kick, Kevin de Bruyne's hammer shot in off the bar against Newcastle and pretty much any Douglas Luiz goal all deserve mentions, but for importance as well as thunderous intent, Fabinho's Anfield strike against Manchester City is hard to beat. We can revisit this if a Villa, Watford or Bournemouth player score a worldie to ensure survival…
Moment of the season
MD: The kick-off to Project Restart. It may have been appropriately strange, but will go down as a huge moment in football history, given the scale of the challenges posed to it amid Covid-19 – and what came with it. The gestures for BLM indicated what hopefully turns out to be a political awakening for football, at a time when real-life impacted the game more than ever before.
MC: Mikel Arteta's positive test, announced moments after the Premier League said they would be playing a full round of fixtures with crowds in stadiums that weekend. Arteta's test was the point of no return, or at least of no return without empty grounds, mass testing and the situation we remain in to this day.
VE: The first Black Lives Matter knee, at Aston Villa vs Sheffield United. We knew what it was for, we knew it was coming and it was still staggering. A perfect statement of unity which couldn't be ignored.
AP: Liverpool win the title. It didn't go down as fans will have imagined over the course of that 30-year wait, but Chelsea's thrilling win over Man City was still an entertaining way for things to unfold. Also, it was the first time the Reds have won it in my lifetime (always nice to see a 'new' team win the top trophies…).
LO: Bizarre moment when goal-line technology failed to spot Sheffield United had scored against Aston Villa, which may yet be part of the reason Villa stay up, if they do.
JR: Liverpool travelling to Leicester on Boxing Day. The last hurdle before a procession to a first league title in 30 years? This was emphatic and Trent Alexander-Arnold mimicking Kylian Mbappe's celebration summed up the moment after sprinting forward and delivering a crisp finish into the bottom corner: Unstoppable.
TK: The Premier League's return after 100 days without action and its united display of solidarity with the Black Lives Matter movement.
KM: On a personal level it's the trophy lift at Anfield. It has been a long time coming for an entire generation of one of the world's biggest fanbases, and it caps off an incredible 13 months for the club. Looking at the wider footballing landscape, it's hard to beat the restart after an incomprehensible, unbelievable, world-altering event which could never have been foreseen. Whether it was the Bundesliga's first kick-off or the players taking a knee to support Black Lives Matter, there were poignant and very real moments where it felt like football had found a new, and very meaningful, place in society. Marcus Rasford's victory for meals for schoolkids is also absolutely worthy of note.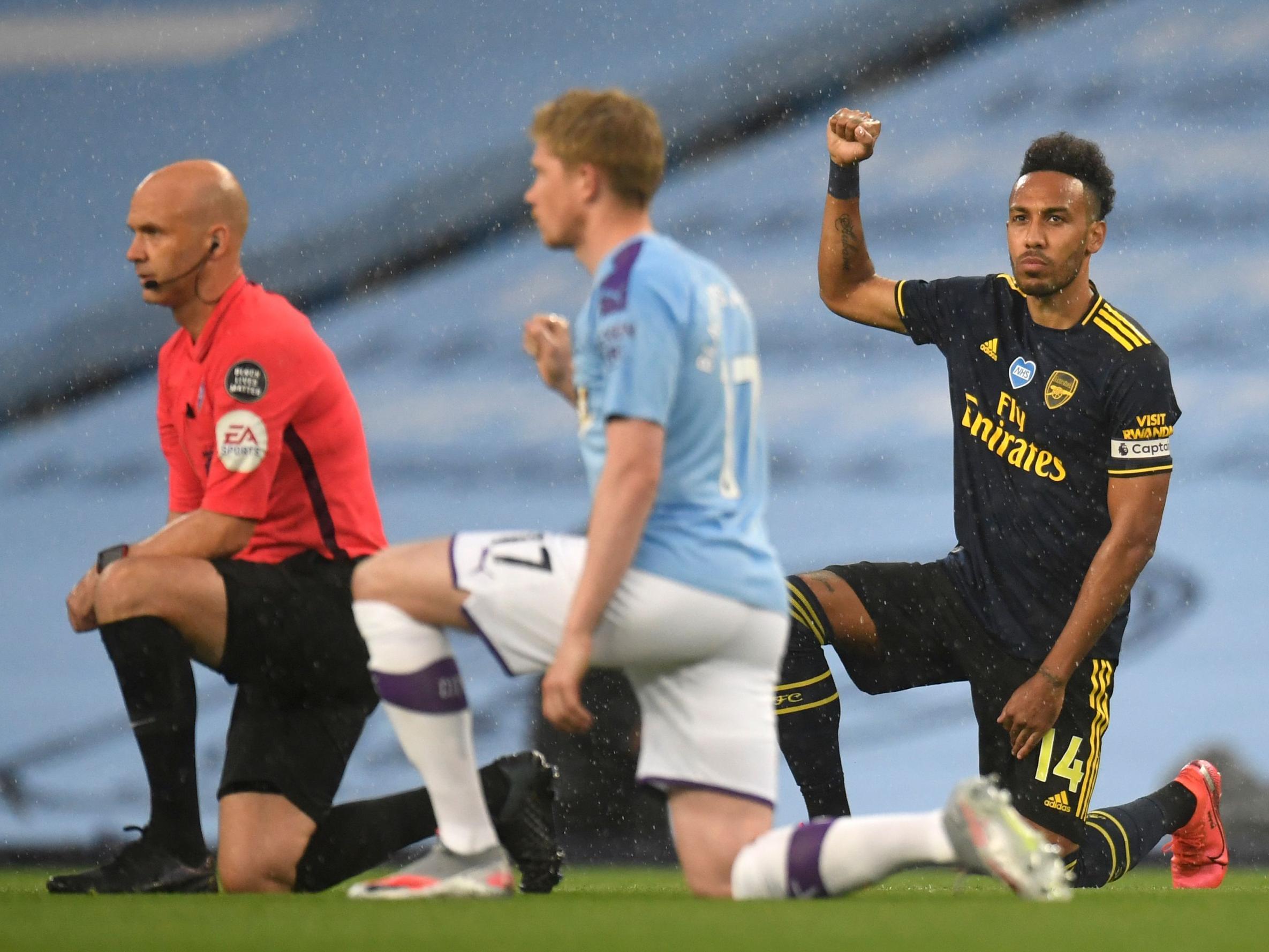 Game of the season
MD: Chelsea 2-1 Manchester City. The game that ultimately decided the title, and had the high-quality intensity to go with such importance, as reflected by the reality it was so involving you temporarily forgot there were no fans there. That was how good it was.
MC: Liverpool 5 Arsenal 5, EFL Cup. A unique game in that neither particularly cared if they won it but the many young players selected were eager to impress. 10 goals – five apiece including two stunning long-range strikers and a 94th-minute equaliser – and the penalty shoot-out meant the two goalkeepers were beaten 19 times in total. It was just good fun.
VE: Sheffield United 3-3 Manchester United. Really back and forth, probably low on defensive quality if you look at it too closely. But an exciting start – Sheffield United going 2-0 up in the second-half – then the kids Brandon Williams and Mason Greenwood drawing level, before Rashford made it 3-2 in the space of, like, a minute. Oli McBurnie scored a late equaliser that even VAR couldn't ruin. Good Premier League-some fun.
AP: Liverpool 5-3 Chelsea. Recency bias is certainly playing a role here, but from a neutral standpoint this game was just pure fun. Okay, the stakes weren't as high as they could've been, but Chelsea still had something to play for. Either way, the fireworks in the background added to the party atmosphere. This match had a bit of everything.
LO: Liverpool 5-3 Chelsea. There might be some recency bias creeping in here, but Liverpool's 5-3 win over Chelsea was certainly the most thrilling since the restart, with some brilliant goals and plenty of animosity. It would have even better in front of a full Anfield crowd.
JR: Wolves 3-2 Manchester City. Honourable mentions for the intense stoppage-time VAR check on Ollie McBurnie's equaliser in Sheffield United's 3-3 draw with Manchester United. But it has to be Wolves storming back under the lights at Molineux to beat 10-man Man City 3-2. The game had everything: VAR controversy over a twice-taken penalty for City, multiple instances of pure quality and significant ramifications in the table – leaving Liverpool 14 points clear. Raheem Sterling at his scintillating best, Adama Traore taking over and then Nuno's side packaging together a delightful winner with Raul Jimenez's finesse and Matt Doherty's clever finish.
TK: Norwich 3-2 Man City: The sight of a fearless, injury-stricken Norwich outplaying and ruthlessly picking off the Premier League champions was a game that defied every odd imaginable.
KM: Southampton 0-9 Leicester. For neutrals' entertainment, goals and crazy attacking ability, it's hard to look past Liverpool 5-3 Chelsea in the penultimate round of matches! In the 'meat' of the season, Leicester's 9-0 win at Southampton back in October was a reminder of the brutal lessons elite football can teach, and the incredible feats which elite players can reach.
Signing of the season
MD: Bruno Fernandes. he's almost decided the top-four chase on his own. It's an obvious answer, but it's difficult to think of a signing since Van Dijk that has been as immediately impactful. He showed he was exactly what United were missing, and transformed their form, to transform the Champions League chase.
MC: Jordan Ayew for £2.5m from Swansea City. It's not a perfect science, but without his goals Crystal Palace would be 14 points worse off and relegated. Bruno Fernandes has had a similar transformative impact but then that was to be expected.
VE: Allan Saint-Maximin. A welcome antidote to the seriousness of the Premier League as a swish reminder that being fun as a footballer and reliable are not mutually exclusive.
AP: Bruno Fernandes. As talented as the Portuguese clearly is, I was guilty of dismissing the possibility that he could single-handedly change Man United's fortunes – that is essentially what the midfielder has done, laying the foundations for the Red Devils to finally (slowly) climb towards former glories.
LO: Bruno Fernandes. Manchester United's transformation from January onwards is no coincidence.
JR: Danny Ings. Gary Cahill and Allan Saint-Maximin have been excellent additions to their teams and ensured relatively little stress despite expected relegation battles for Crystal Palace and Newcastle. But it has to be Danny Ings, off the back of 10 Premier League goals in four season, he has doubled his previous best total of 11 goals from way back in 2015, with his 21 this term validating the £20m fee.
TK: Bruno Fernandes. Fernandes' signing had such a dramatic impact at Manchester United, even if his exorbitant transfer fee made that a matter of expectation. Averaging a goal or assist in every Premier League appearance since his arrival, he has totally overhauled the mood and trajectory at Old Trafford.
KM: Bruno Fernandes to Manchester United. The only reason he's not in my team of the season is that I feel at least half the matches should be played for someone to have had enough of an impact, and the Portuguese midfielder won't reach that. But for best signing it's not even close – he's a transformational player, has already had a big impact and can be built around for years to come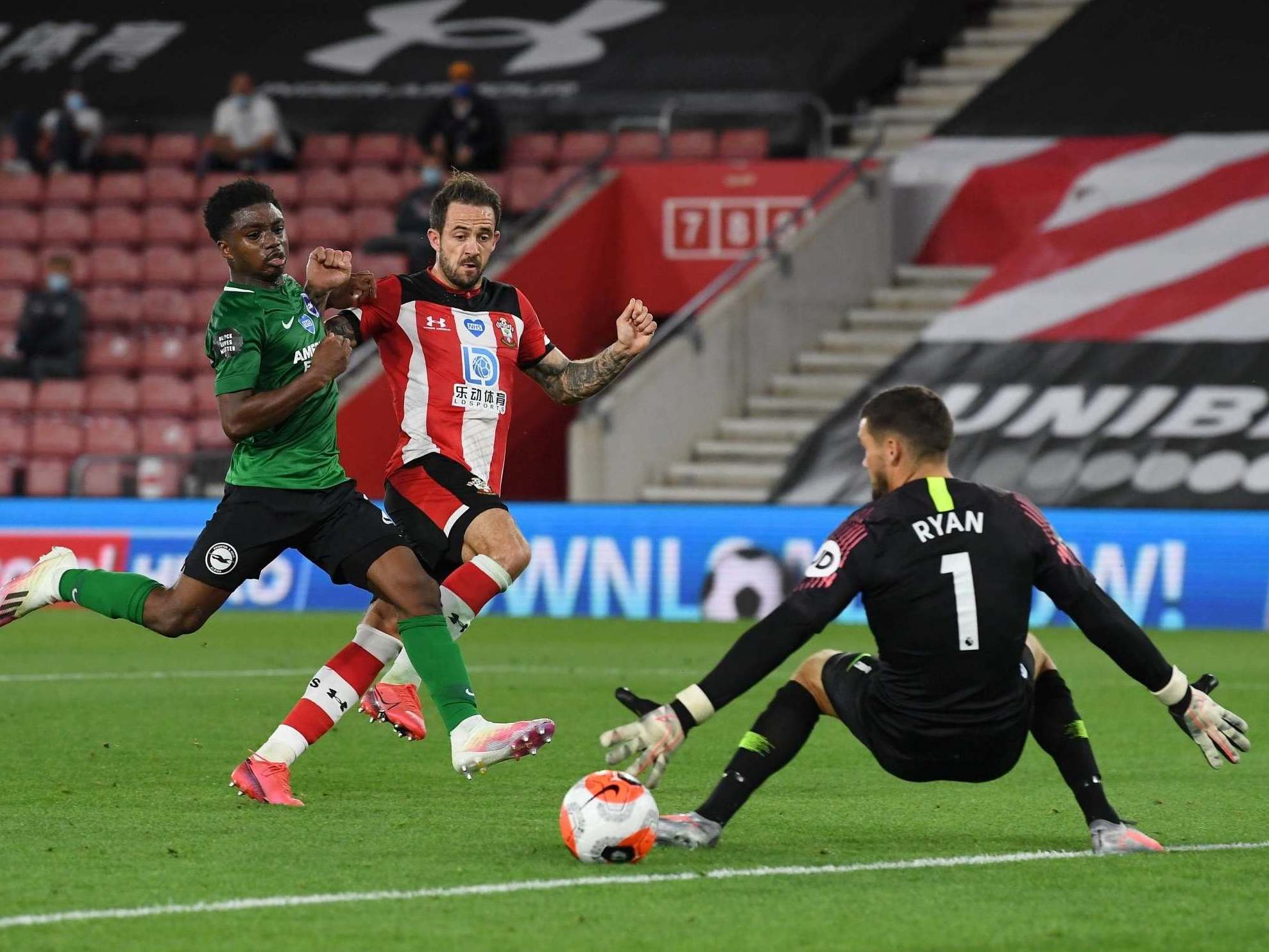 What next for VAR?
MD: Ugh… more adaptations, more complaints, more debate – but also more VAR. It's here to stay, even if alterations will have to be made.
MC: Use of the pitch-side monitors, which will slow the game down but should at least make the process more coherent. Personally, I would scrap it altogether as the system seeks clarity and consistency from rules which are inherently ambiguous and open to interpretation, but yeah, we're stuck with it now.
VE: At some point next season there will be a piece written, or a thread on Twitter that will tally how often each referee goes to the screen at the side of the pitch. It'll be shared far and wide, and we'll wonder what it means, whether it's just the referees with big egos who avoid it and if those that do carry too much doubt to do such an important job in such pressurised circumstances. That's when VAR will have truly won.
AP: More monitor-checking. There is no excuse not to. When VAR arrived, some fans said they'd rather have wrong decisions here and there than a slower game. Inevitably those fans are realising the error of their ways. The odd wrong decision can cost a club everything, and there have been far too many incorrect calls this term.
LO: Getting rid of the rule which rules out goals for any touch of an attacker's hand in the build-up would improve football generally and give VAR less pedantic work to do
JR: Sigh. More furious debate and discussion about adjusting the parameters but, hopefully, a less forensic approach to offside reviews? A threshold to stop changing calls based purely on as little as one millimetre.
TK: Quicker decisions, more pitch-side checks by referees, a consistent supply of moaning from managers, and more nefarious debate over at which point the shoulder ends and the arm begins.
KM: There are two sides here: the perception and the reality. It's fairly straight-forward to improve on the former – just give people what they are moaning about. It doesn't change the use or the accuracy, it just changes the conversation tone, so make refs look at the pitch monitor more. Make more decisions over errors clear-cut, rather than clear-and-obvious (which they never are, apparently). For the actual improvement, it still needs to quicker, there still needs to be more explanation or accountability and it's still something everybody will complain about regardless of all the changes.
What did you learn from the 2019-20 season?
MD: Football finds a way. It won't seem like it now, as an element of normality returns, but there were times in March and April when it genuinely seemed impossible that football would be played again before a vaccine. That is testament to the work done by the Premier League and European football, as well as a reflection of the financial forces behind the game, that provoke other issues. The ease with which Liverpool won the title, and another low points threshold for relegation, points to the immense financial disparity that is a consequence of that and conditions the game more than anything else.
MC: That I'm ready for it to end.
VE: Football plays too great a part in our lives and nothing made that more apparent than when it was suddenly taken away from us. Don't do that again, yeah?
AP: The importance of football – It's been said that football is the most important of the unimportant things in life. The Premier League's return amid the coronavirus crisis was criticised from some quarters – understandably so – but was thankfully carried out as safely as possible. Once back, top-flight English football – and other leagues around the world – provided a welcome distraction from the ongoing pandemic.
LO: It is obvious enough, but football really is nothing without fans, and hearing players' voices echoing in soulless empty stadiums has only served to underline the point.
JR: Money talks. There was a moment when it certainly looked impossible for the Premier League to be concluded due to the coronavirus pandemic. But here we are, one game remaining, and football has impressively found a way to almost seamlessly carry out daily games and a welcome distraction as the world seemingly falls apart around us.
TK: That no matter how great the financial disparity, shocks such as Sheffield United's rise or Arsenal and Tottenham's implosions will always occur. Off it, that whether walking into a crisis of its own making or leading sport's return from one, football never truly stops.
KM: Just when you think a team, or person, has reached the heights, there's always another step to take. That works in both directions: the heights of consistency, of excellence, of stupidity, of abysmal form, of being overrated, the lot. But as above, it also seems that football found a place in life this year, an important role for the players to make themselves heard and make a real difference in more ways than just on the pitch. Oh, and that everybody hates the first-half cooling break.
Source: Read Full Article