Pakistan battle through tough conditions to frustrate England on day two of second Test
It is probably a bit naff to say cricket without fans is nothing. But there is no doubt that English Test cricket without fans lacks soul.
But as the umpires took the players off at 4.50pm in light that seemed no worse than earlier, however, perhaps it was a good thing no one had forked out for the privilege of being here was a supporter. The high premium of tickets is isolating enough without sitting around for a couple of hours before play was eventually called at 6:27pm.
That Pakistan's white-ball side were playing an intra-squad Twenty20 on the Nursery Ground next to the main arena at the Ageas Bowl was another compelling argument that the bigger ground with floodlights – and a global audience, no less – could have played on.
Download the new Independent Premium app
Sharing the full story, not just the headlines
For what it is worth, the 40.2 overs of play that were allowed on day two saw the second Test move along at a decent pace, even if England could only manage four wickets. Pakistan, though, having struggled for the middle portion, were able to reach 223 for nine with a gritty innings of 60 from Mohammad Rizwan.
He is still there, ready to go again, albeit with only Naseem Shah for company. And for the guts he showed at the end to thrash his side to a score of worth, there was a modicum of good fortune. Notably, a tough chance put down by Jos Buttler diving to his right after a mistimed hook when Rizwan had just 14 to his name.
The knock began with little indication of what it might become. Just 36 runs across both innings of the first Test and career of seven Tests with one score of fifty is hardly a record to fear. Nor was his start.
The wicketkeeper-batsman was 24 off 70 when an LBW shout against Chris Woakes turned into a run-out opportunity at the non-striker's end after the over-enthusiastic Shaheen Afridi had backed up halfway down the track. Dom Sibley was the only one in the cordon not preoccupied with the appeal, gathering the ball and throwing down the stumps to make it 176 for eight.
It's an important point for a couple of reasons. Until then, he looked somewhat out of his depth. His feet were neither here nor there – his back leg even making the odd appearance outside off stump as he finished off many a play-and-miss. It is a tick that speaks of any number of technical issues, from looseness on the drive to susceptibility to the ball that nips in at the pads.
And it was also the moment when Rizwan had to shake himself out of the funk. A day that started with Babar Azam set on 25 as the main hope for a competitive first-innings total. He would make it to 47 before Stuart Broad made him Friday's first victim with a delivery that needed to be every bit as perfect as it was on matters of line and movement.
Babar had kept the silky cover drive under wraps from the 12.30pm start under a cloudy sky and heavy air that suited England's seamers. But the 25-year old is not part of the exhausting "Big Four" debate simply because of one shot. And as England went straighter, he went through midwicket and square leg with the kind of timing none of the other 21 players in this match can match.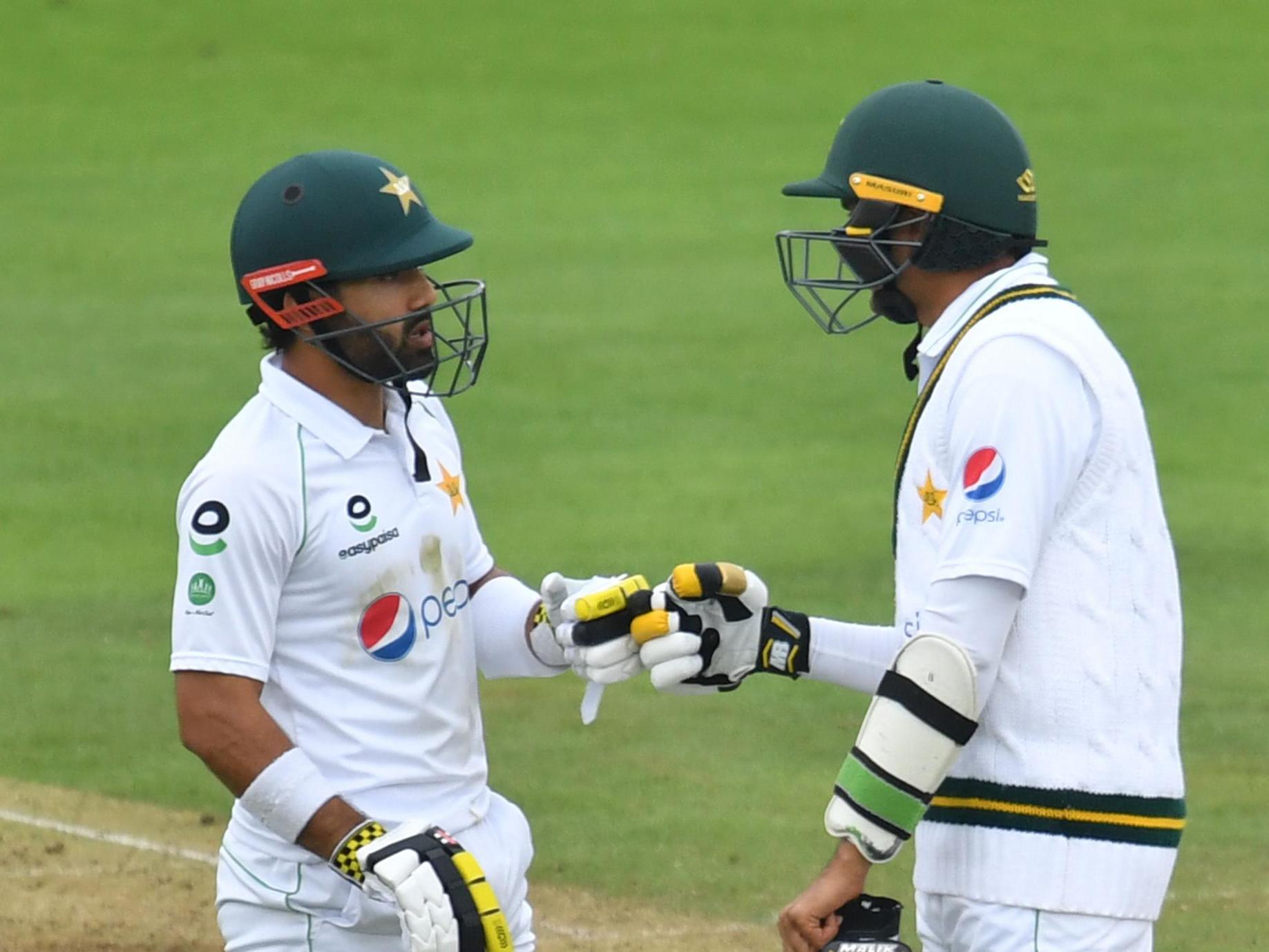 So for Broad to find his edge – with a delivery that asked him to press forward and defend but nipped away to catch anything but the middle through to Jos Buttler – felt like quite the turn-up. Yasir Shah would become James Anderson's third with a lusty Yasir Shah-esque drive to an Anderson-esque outswinger. And with only five runs added in the 38 deliveries between this and Shaheen's run-out, England's batsmen were already planning how they would go about passing Pakistan's sub-par score.
Immediately after the eighth wicket, Rizwan finally moved his feet with purpose, walking down and across to Woakes and clouting him over square leg. Two overs later, he opened his arms to flay Sam Curran through point and then dip under a short ball to ramp it up over the slips for a couple of fours in three deliveries. An extra cover drive off Woakes followed – one Babar would have "hai hai"-ed – to suddenly move Pakistan to the cusp of 200 and him to a second half-century.
Both would be achieved with a bit of patience, four byes moving the score to 202 for eight and a scampered two taking Rizwan to a neat 50 from 104 deliveries. By the time tea came – early on account of bad light – the score (215 for eight) and partnership with Mohammad Abbas (39) had entered into "frustrating" territory for the hosts.
It would take only four balls after the restart to break their stand, Broad nabbing his third of the innings with the LBW of Abbas. But with Rizwan charging down Broad and hitting him over cover for his fifth four with the penultimate delivery of day two before it succumbed fully to bad light, there had been enough to suggest the advantage does not like squarely with England.
The muggy conditions are set to continue to making batting difficult, and it was hard not to watch the movement through the air and off the pitch and think of the damage Abbas, Shaheen and Naseem could do. If the umpires let them stay on the field, that is.
Source: Read Full Article