Stuart Broad shines with bat and ball as England take ascendancy in decider against West Indies
It's a familiar trait among the best individuals in team sports that they can shift matches themselves. But in cricket, a sport more susceptible than most to whims of man or woman, even one's weaker suit can be a tool for shifting momentum.
That is how things played out for Stuart Broad on a surprisingly dry Saturday at Emirates Old Trafford. One that saw him help England establish a 232 lead over West Indies through vital work with the bat.
In a frenetic 45 minutes, Broad struck the third-fastest half-century by an Englishman as part of 62 off 45 deliveries that were the majority of a 76-run stand for the ninth wicket with Dom Bess (18). Without it, West Indies would have control of the third Test, and one hand on the Wisden Trophy. Now, on 137 for six in reply to England's 369, they are chasing it.
Download the new Independent Premium app
Sharing the full story, not just the headlines
England's strong position of 258 for four this morning, achieved through Ollie Pope and Jos Buttler's overnight stand of 136, was ceded in the space of 18 deliveries.
Pope (91) did not add to his overnight score, bowled by Shannon Gabriel the ball after he was shelled at slip by Raheem Cornwall off the same bowler. Chris Woakes knocked Kemar Roach onto his own stumps. Buttler's resilient innings came to an end on 67, edging Gabriel low to Jason Holder at second slip. And when Jofra Archer found the same fielder off Roach, four of the remaining six English wickets were taken for the cost of just 18. The hosts were now 280 for eight, that dream of a big first-innings crumbling before their eyes.
That Broad was the man to boost the innings was a surprise and, yet, entirely predictable. If you know of Broad, you know of the wickets via cluster bombs. But if you really know Broad, you know the batting is often a cluster of a different kind.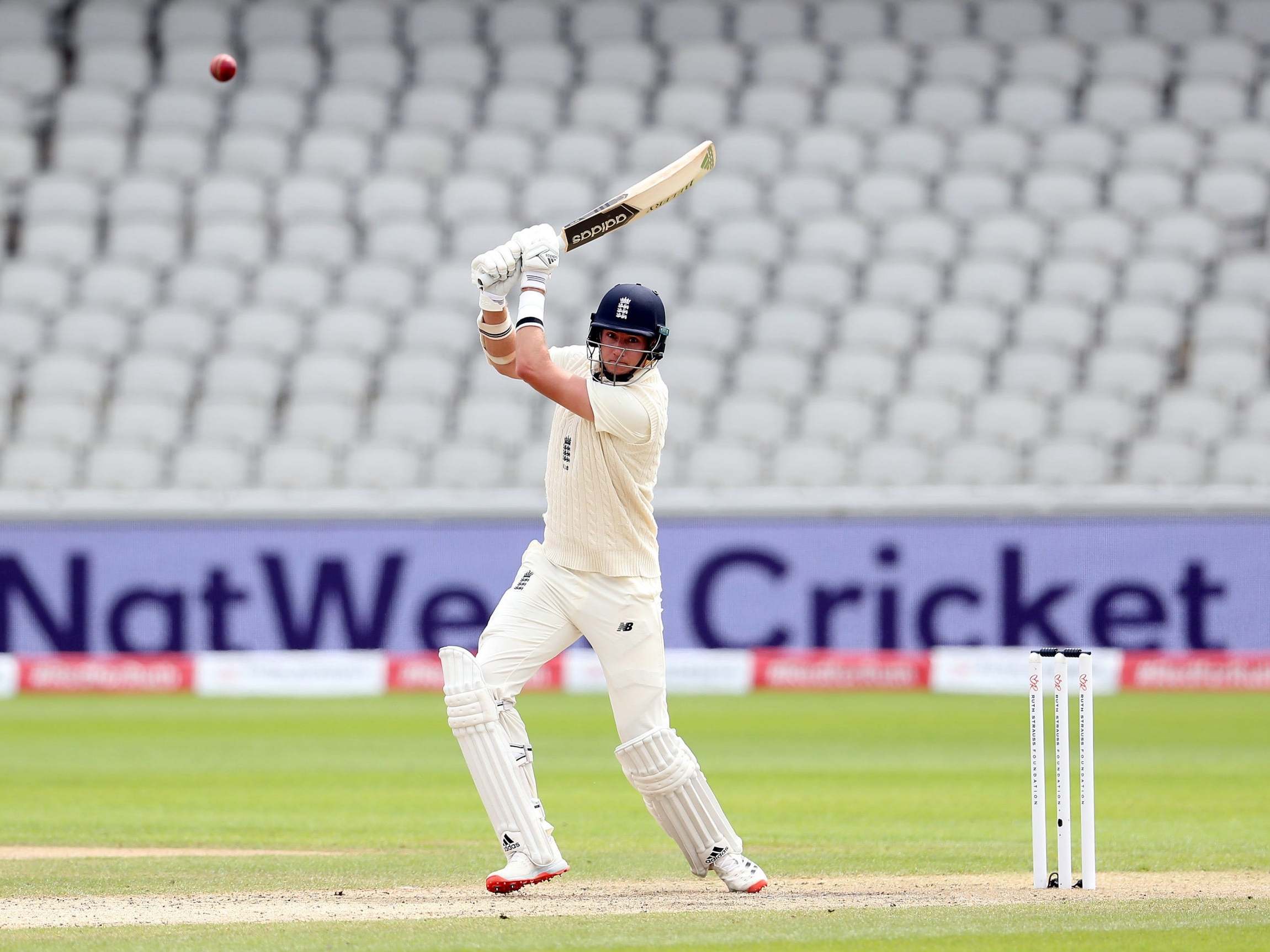 That century against Pakistan in 2010 feels longer ago than that. And though he did get hit in the face by India's Varun Aaron in 2014 on this very ground, the rot had set in the couple of years previous in which he averaged just 16. The decline has been steady and, at times, comical. It was only a few months ago he was bowled by Kagiso Rabada after his bat got trapped in his pad. A once classically elegant left-hander now resembles a stick insect trying to take off a pair of skinny jeans.
But the other thing about Broad is that it never matters how he does things – just that he is doing them. And when he's doing whatever it was he was doing out there, like hitting inside-out through cover having given himself a foot of room outside leg stump, or scything over the cordon like he's taking down a tree, it is easy to lose yourself in the present.
Holder did just that: failing to change his bowlers quick enough or set appropriate fields. He lost a bit more of the thread of this match with every swing of the 34-year old's arms to the fences for nine fours and a six off Roach to midwicket. We might look back and wonder if it was here the match was lost, to.
It's hard to blame the West Indies skipper. Some players invite you into their control. Broad bundles you into the back of a black van and dumps you in the epicentre of his chaos.
It was not just Holder's nerve that was lost. Among the blitz was Roach becoming the first West Indian in 24 years to reach 200 Test wickets, after Curtly Ambrose reached the milestone in 1994. A feat that deserves to be much more than an afterthought. Now with 201, he is ninth on his side's all-time wicket-taker's list and could above Andy Roberts (202) before he leaves England.
Of course, Broad's work was not done there, even if joining the likes of Ian Botham, Allan Lamb and Andrew Flintoff on a batting list would be enough for anyone else's lot.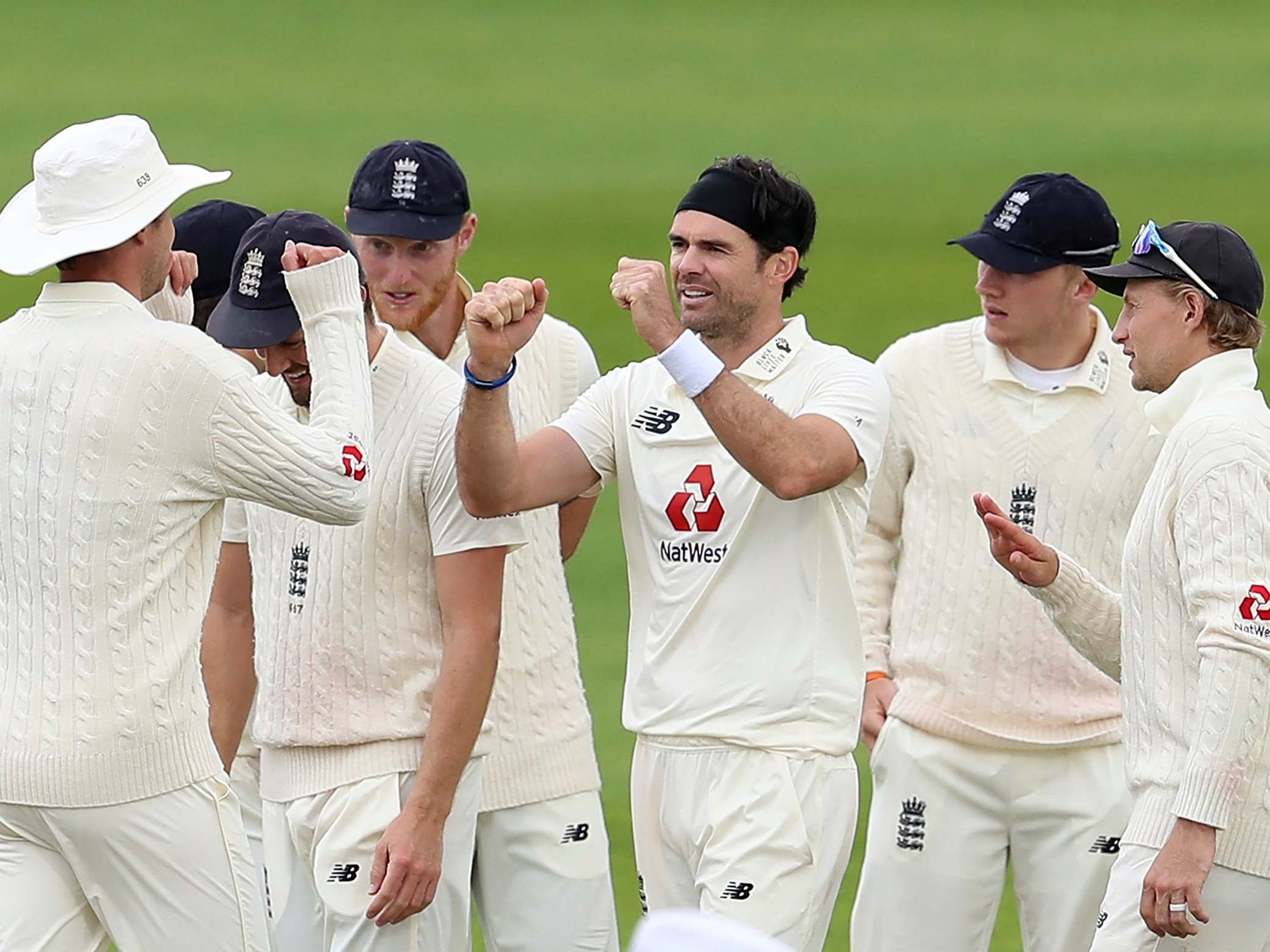 Four balls into his opening spell, the resolute Kraigg Brathwaite was removed via an edge to Joe Root at first slip, from the James Anderson End, no less. Who else but Broad to oust one of England's greatest from his own home? Anderson would return to it later and produce arguably the spell of the match: four maidens in six overs with the wickets of Shai Hope and Sharmarh Brooks for just four runs.
By the time Broad bagged his second – Roston Chase trapped in front and celebrated before it was appealed and given by the umpire – West Indies were 73 for five and you began to wonder if the remaining five would fall before the day was closed out.
It was quite neat to see Anderson and Broad finish the day with two for 17 from 10 overs each. The last couple of years have been punctuated with talk of rotating one with the other to preserve them both. To see them in unison again was a welcome sight for England fans, and also a reminder that we will only see so much more of them. As such, getting lost in the present here was no bad thing.
Archer and Woakes did their bit with a wicket apiece, and all four quicks will need to dovetail as effectively on Sunday to take out the remaining batsmen for less than 33 more runs. Or as quickly as possible given the sense this match will not be as lucky with the weather for the rest of the match as it was on Saturday.
Source: Read Full Article