Who is Rachin Ravindra – New Zealand's new World Cup hero with strong Indian roots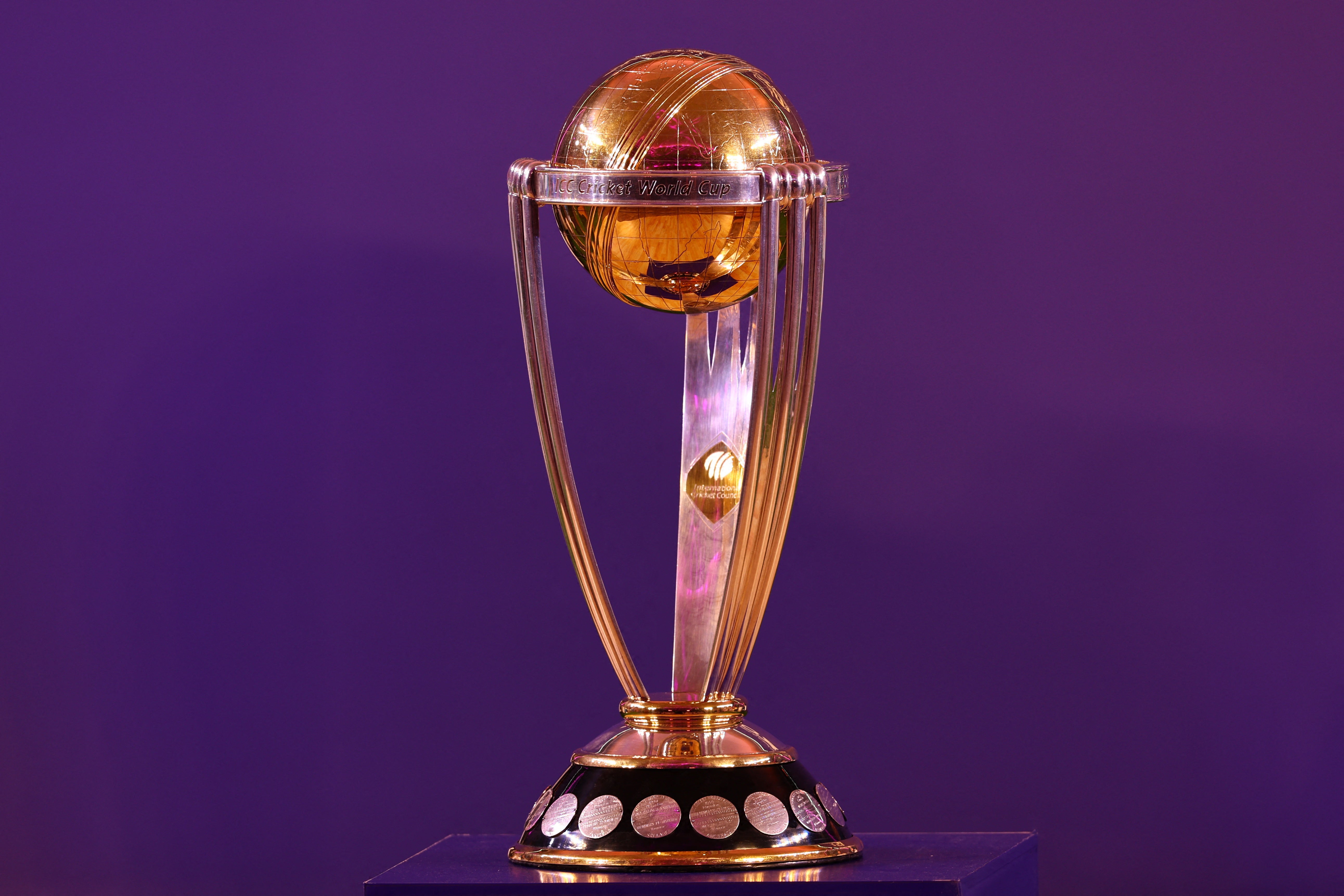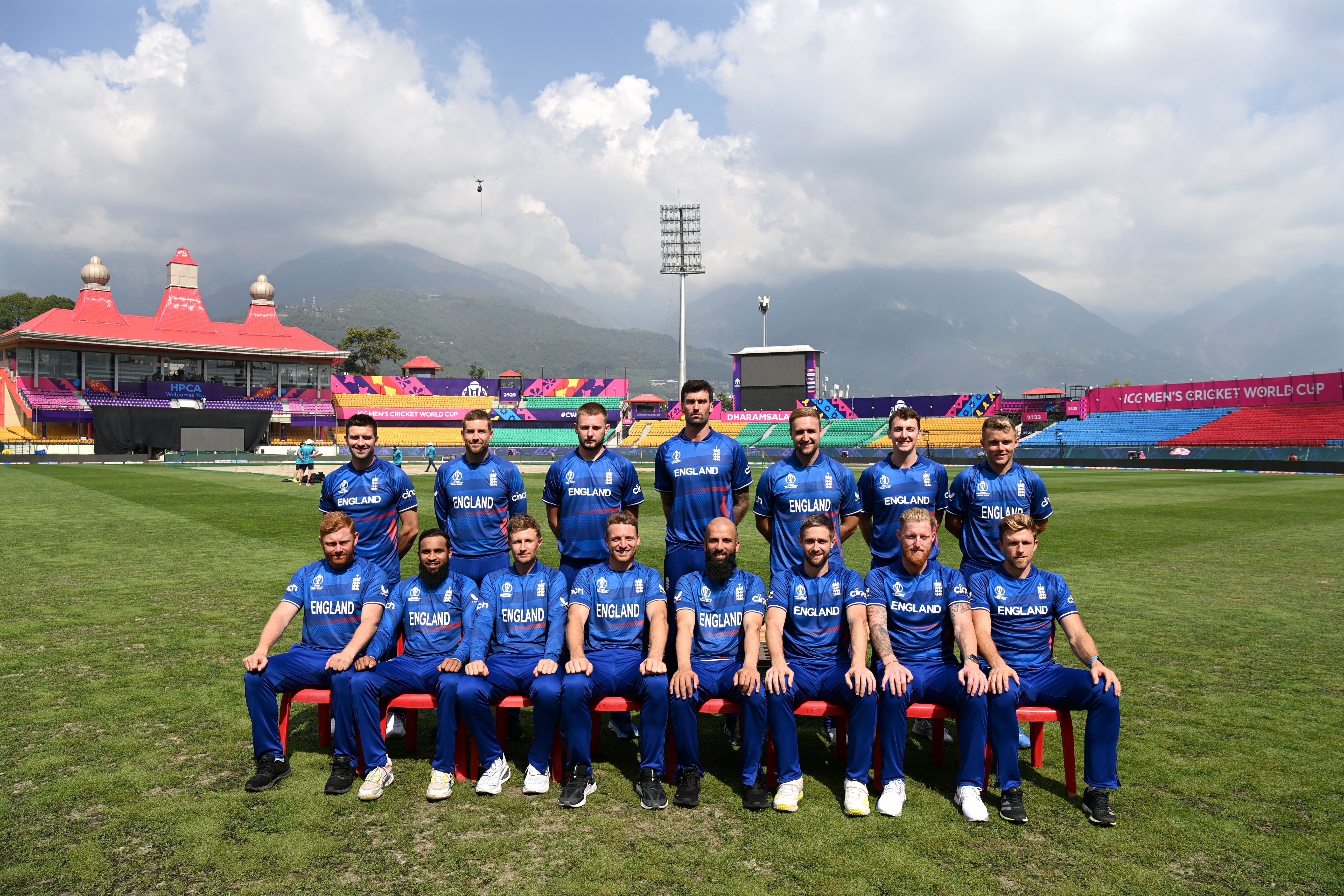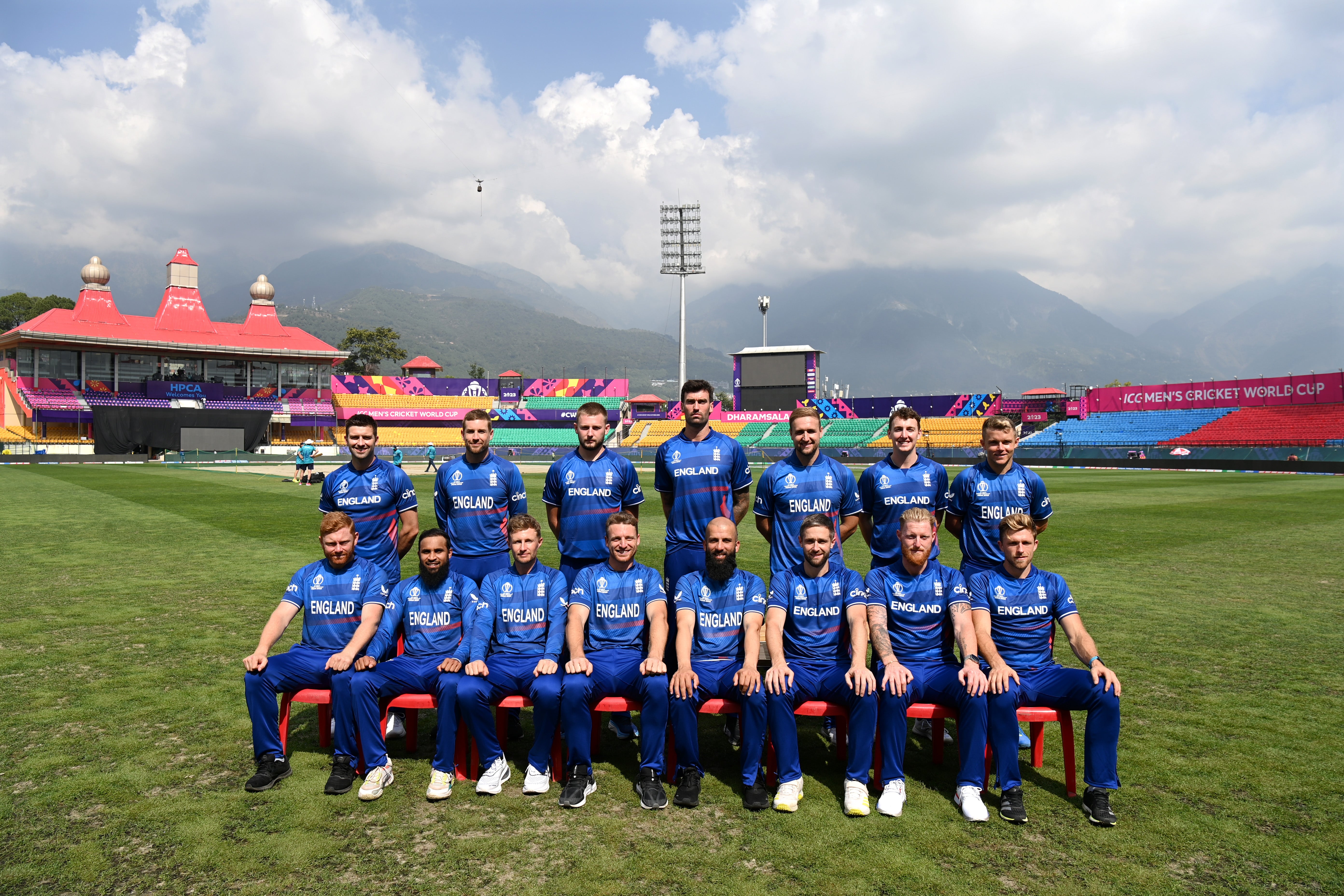 The batsman shared a fantastic 273-run stand with opener Devon Conway for the second wicket.
At 23 years and 321 days, he becomes the third-youngest batter to score a century on World Cup debut.
Ravindra also bowled a full 10 overs in the match's first innings and took the crucial wicket of Harry Brook, who at that point had England's best strike right with 25 runs off 16 balls.
Story behind Ravindra's name
It's fitting that the Kiwi cricketer racked up his first ODI hundred in India. Ravindra's Indian parents, father Ravi Krishnamurthy and mother Deepa Krishnamurthy, moved to Wellington from Bengaluru in the 1990s.
Ravindra's father was a former club player and cricket enthusiast. He named his son, born on 18 November 1999 in Wellington, after two legendary Indian cricketers. Ravindra's name, Rachin, is a portmanteau of two Indian greats – Sachin Tendulkar and Rahul Dravid.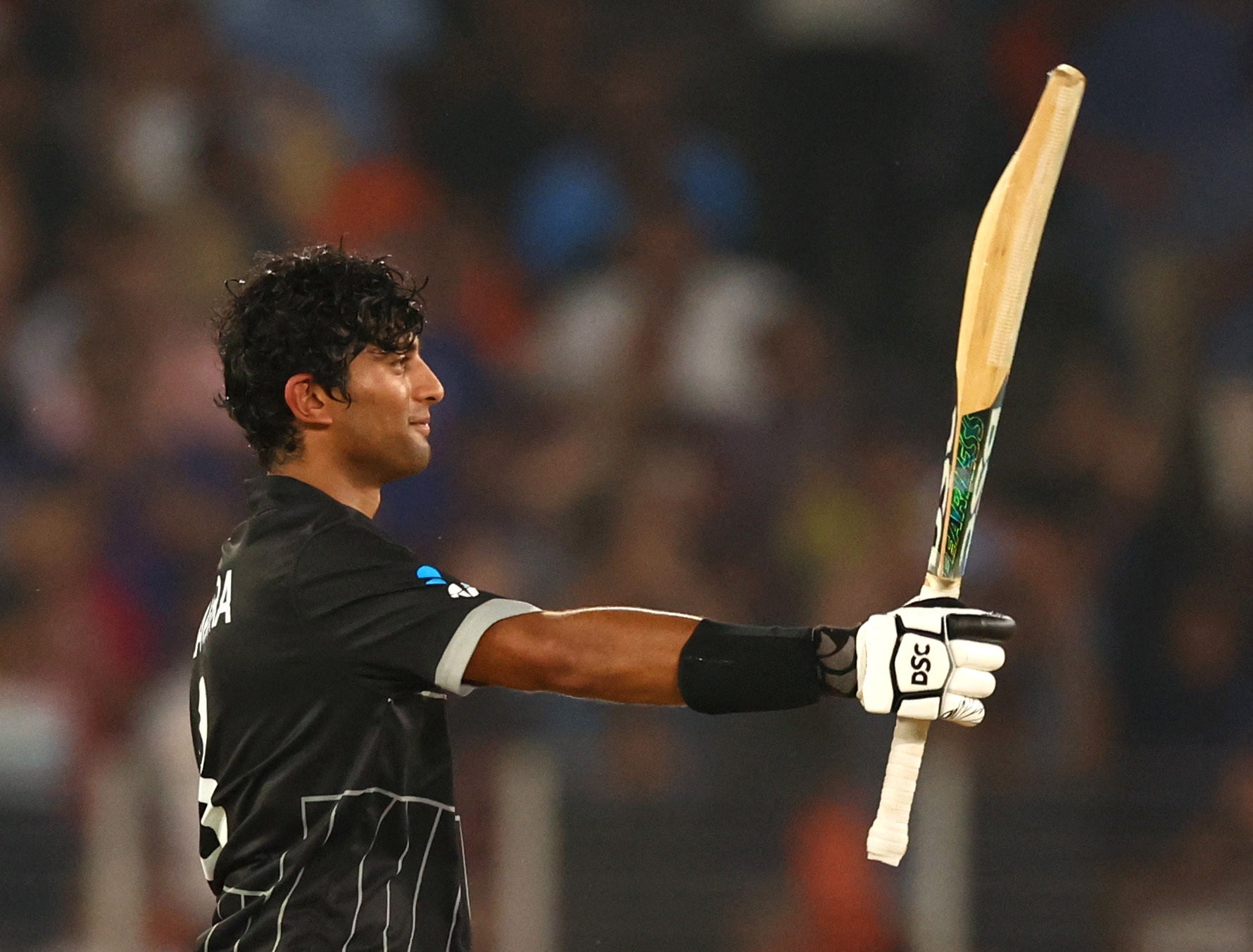 Rachin Ravindra celebrates after reaching his century
"Back in the day, mum and dad were deciding about names and they both liked Rahul and Sachin and liked their names," Ravindra said in a recent interview.
"Ra from Rahul and Chin from Sachin, but that was a long time ago. Two amazing players. Very lucky to be named after them."
Ravindra's talent was recognised at a very young age as he played for New Zealand's Under-19 side and their "A" team.
He represented New Zealand in the Under-19 World Cup in 2016. He also played in the 2018 edition of the tournament, which took place in New Zealand, and scored 117 against Kenya and struck 76 against South Africa. He also finished as the Kiwis' leading wicket-taker, with 13 scalps.
In 2021, Ravindra made his T20I debut against Bangladesh in Mirpur, but it turned out to be a forgettable outing as he was dismissed for a golden duck and New Zealand also lost the game.
Ravindra makes Test debut on Indian soil
Soon after that, Ravindra made his Test debut for the Black Caps and his maiden Test was interestingly in India, where he still has family roots as his paternal grandparents live in Jayanagar, South Bengaluru. Earlier this year, Ravindra finally broke into New Zealand's ODI setup as well.
Ravindra wears No 8 for New Zealand because he is a huge fan of late basketball superstar Kobe Bryant, who won five NBA titles with the Los Angeles Lakers. Nicknamed the Black Mamba after the highly venomous African snake, Bryant is known as one of the greatest basketballers of all time.
"My jersey number is eight and the significance around it is I'm a big basketball fan and that was Kobe Bryant's first number when he first entered the NBA," Ravindra said.
On the international level, Ravindra has scored 73 runs in three Tests, 312 runs in 13 ODIs and 145 runs in 18 T20Is for New Zealand.
Ravindra cheered for Black Caps from India in 2019
Ravindra's father, a close friend of legendary Indian cricketer Javagal Srinath, is the founder of the Hutt Hawks Cricket Club in New Zealand. He brings young members of his cricket club to India every year.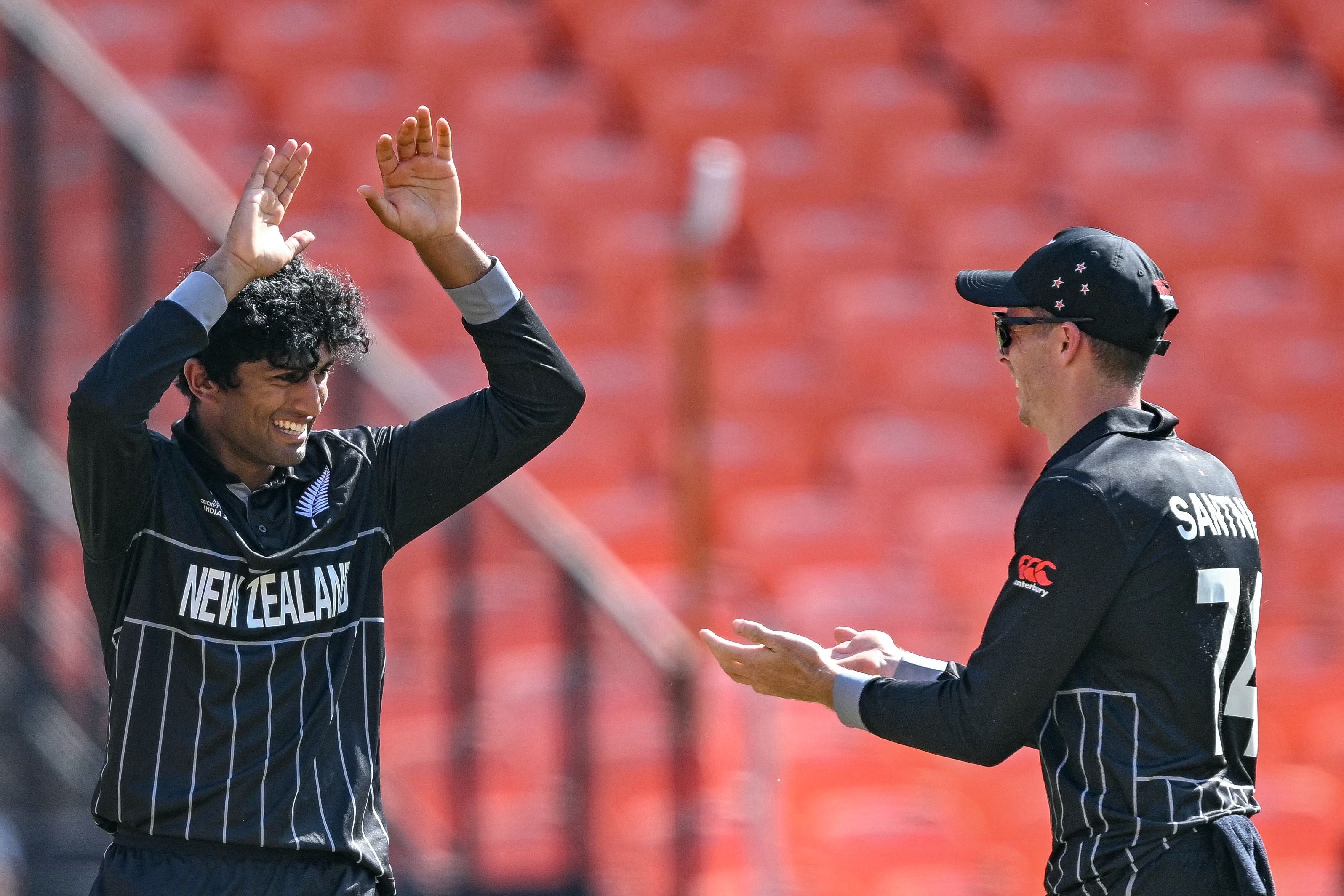 Rachin Ravindra celebrates with his teammate after taking the wicket of England's Harry Brook during the 2023 ICC men's cricket World Cup one-day international (ODI) match between England and New Zealand
In one such outing in India in 2019, Ravindra watched the World Cup final between England and New Zealand at a stock exchange bar in Bengaluru.
"It is actually quite a story," he said in an interview.
"My dad takes a bunch of age group boys to India (annually) and we were in Bangalore [as the city was earlier called] on a senior trip. We were watching the final (2019) in a stock exchange bar. I watched the whole final. It was unbelievable and such a rollercoaster experience with the high and lows of the game.
"Having Indian supporters around us was pretty cool. It is an experience I will never forget," he said.
From cheering for New Zealand from India as a fan in 2019 to now scoring a century on his World Cup debut for the Black Caps, Ravindra has come a long way.
Source: Read Full Article