Why CA should thank Warner as game's most intriguing rivalry resumes
If Cricket Australia won't give David Warner a leadership role, they should at least slip him a commission.
Warner's very public abandonment of his wish for a private hearing into his leadership claim might have demonstrated more feeling than brains, but it was a genius promotional move.
By putting a match to a piece of four-year-old sandpaper – or touchpaper? – Warner has managed to reignite the history of antagonism that has produced such intense, fractious, often riveting cricket between South Africa and Australia. His employers should be thanking him.
The rest of the Australian team has been industriously interring their zombies. 'You don't need to name them all,' said Nathan Lyon when given a list of Australia's past stinks with South Africa. 'We've grown up,' echoed Usman Khawaja. 'We've sort of buried that,' Marnus Labuschagne confirmed. 'We've moved on,' coach Andrew McDonald re-confirmed, before re-re-confirming it several more times; his team had now freshly moved on from whatever they had moved on from five minutes earlier.
As well as these individuals had learnt their lines, they deserve to have their pay docked, or perhaps have leadership bans slapped on them, for trying to bury the best thing the upcoming series has going for it: the grudges.
It's a futile task anyway. How can they move on from the zombies in their own changing room? There's Steve Smith, no longer captain because four years ago he was not worldly enough to recognise the point where winning only seems to be everything, but actually it's not.
David Warner signs autographs for eager fans in Adelaide.Credit:Getty
Harder still to bury David Warner when he's fighting for his career and pretending that he's moved on from whatever it was that so upset him last week. Move on, everything to see here!
While the Australians are working overtime in the gravedigging and removalist business, trying to focus on a bloodless application of 'process' and a removal of the emotions that proved so self-destructive in 2018, their opponents are free to motivate themselves with the salient fact about South Africa-versus-Australia: how the aggravation between these countries has ruptured the home-advantage predictability of international Test cricket. This is the singularity of Australia versus South Africa: they annoy each other so much, each country has found it peculiarly hard to win at home. Why would you want to bury that when it's the best thing this Test cricket summer has going for it?
The sandpaper affair was not an outlier, but the climax of a larger narrative. These teams have, since South Africa's return from their apartheid exclusion, enjoyed a most unpleasant relationship. The first two series, home and away in 1993-94, were marred by bad-tempered clashes on and off the field, the most picturesque of which was Merv Hughes trying to belt a Johannesburg spectator with his cricket bat through the Perspex tunnel shielding the players as they left the Wanderers. Allan Border's career ended after a long summer of cricket that was both cantankerous and memorable, sour and brilliant.
From there, it only got fruitier. In Adelaide three years later, the South Africans accused Mark Waugh of unsporting conduct when he hit his wicket but was given not out during a match-winning innings. Over in South Africa shortly afterwards, the level of invective aimed at Shane Warne in particular suggested that the locals had spent most of their apartheid-ban years dreaming up new insults.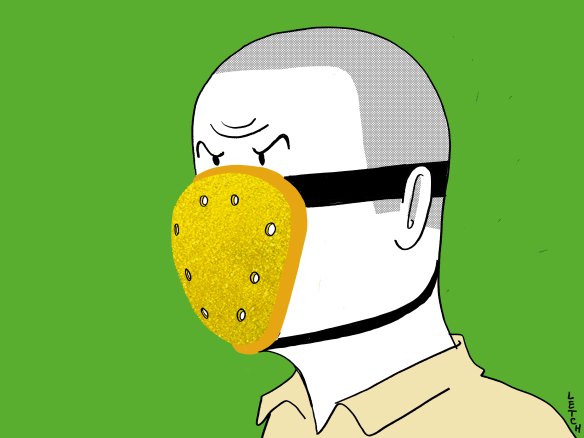 Credit:Illustration: Simon Letch
And so it kept going, tit for tat followed by tat for tit, series after series in an extraordinary relationship that produced some of the most stirring away-from-home performances in Test cricket, from Australia's win at Port Elizabeth in 1997, inspired by Mark Waugh and Michael Bevan and iced by Ian Healy's six off the last epic ball of an epic match; Adam Gilchrist's emotional double century in 2002 (after another incident where South African spectators decided to target an Australian's personal life); AB de Villiers's record-setting deeds at Perth in 2008 and 2012; the defiant masterpieces of Hashim Amla and Faf du Plessis on Australian soil; Phillip Hughes's debut in South Africa in 2009; Michael Clarke's Cape Town hundred two years later, surely the best individual Australian innings of a decade; Mitchell Johnson's and Ryan Harris's incredible bowling – and Warner's batting – in South Africa in 2014; Vernon Philander's swing masterclass and the emergence of Kagiso Rabada on Australian pitches in 2016, and so on.
These are all away-from-home triumphs, reversals and upsets, all powered by bad blood and vendettas and the focus required of teams playing on the road, under siege, glued together by resentment at the way they have been treated.
Why would you want to bury that?
Whereas most bilateral cricket relations exchange a metronomic advantage to the home nation, Australia and South Africa have bucked the trend. The last three times South Africa have come here for a Test series, they have defeated Australia. Australia went undefeated for two decades in South Africa, across seven Test tours, until the sandpaper series. It's one long serial revenge drama. Nothing happens in isolation, least of all the things you think you can move on from.
Shane Warne was always a favoured target of the South African supporters.Credit:Getty
They can't even agree on a trophy. Last time South Africa were here, Cricket Australia launched a public forum to name the symbol of Test supremacy between the nations. Every other contest has a named trophy; why not this one? The then-chief executive, James Sutherland, said, 'We'd love to hear what fans think this series might be called… A concept or theme that has strong meaning for both countries is also encouraged as a basis for discussion.' He and his South African counterpart, Haroon Lorgat, invited 'a selection of quality ideas that will come from cricket fans on both sides of the Indian Ocean'.
That one got buried. Nobody knows where. Names of past players were too controversial, and the 'quality ideas' with 'strong meaning for both countries' never eventuated to both sides' satisfaction.
So the teams are just playing for the [insert current sponsor's name] Australia versus South Africa whatever trophy. If the winning captain didn't have to hold something at the end of the series, there wouldn't be a trophy at all.
A nameless trophy: what a perfect tribute to the competitive spirit that has animated cricket's hardest and most unpredictable contest.
Sports news, results and expert commentary. Sign up for our Sport newsletter.
Most Viewed in Sport
From our partners
Source: Read Full Article